Suddenly floating

Down the river goes my wife

Someone grab her hat!
It was a beautiful morning in Zion National Park, we were up early to get to the outfitters to rent our waders/dry suits for the hike in the Zion Narrows. This is a hike we have wanted to do since 2009 when we brought the kids with us to Zion. It was worth the wait and is definitely in my top 10 list of hikes.
The water temperature was 56 degrees and the river was flowing at 46 cubic feet per minute. So it was not too high, but it was rapid enough that a lot of the time we really needed our poles to stabilize ourselves. I was under the impression that the entire hike was in the river. Thank God it was not. A lot of the hike involves zig zagging back and forth to get to dry land to walk on a trail for a short distance before going to the other side to do the same.
I felt like an explorer as you could not see very far ahead, so at every turn there was another turn just up ahead and you never knew what was coming up next.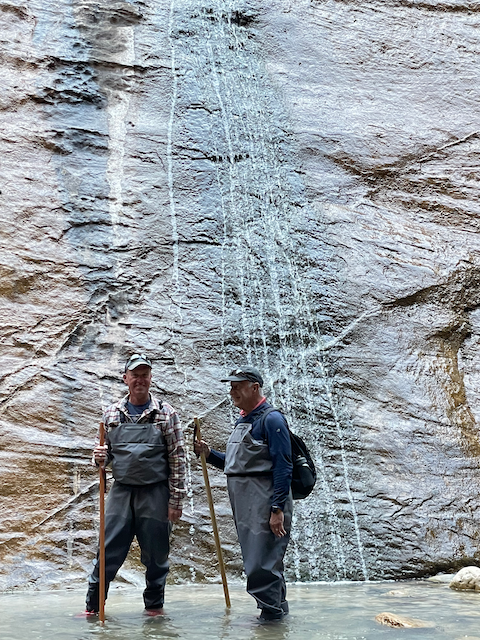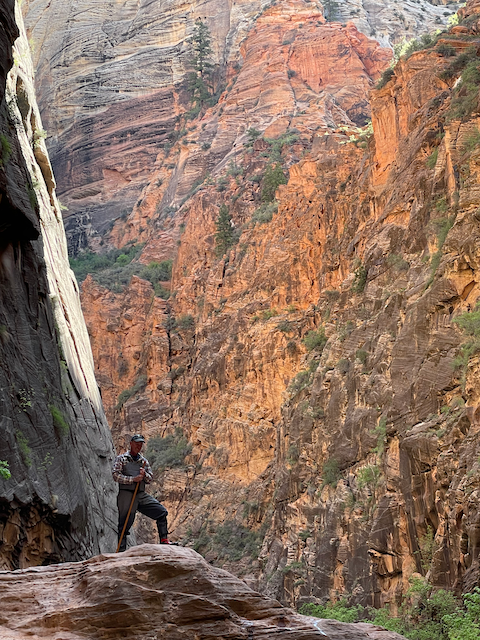 Our goal was to make it to the split and then walk a little further upstream to "Wall Street" where things get even more narrow. Which we did, we also explored a path to a waterfall. But that was not too productive, as there was a mini waterfall and boulder in our way. So we headed back.
When we arrived at the deepest crossing that also had a very strong current that was when things went awry. I was walking just ahead of Jane when I saw her start to float by! She had stumbled and done a slow fall into the deeper water. I was able to grab on to her and get her upright but not before a bunch of very cold water had gone over the top of her dry suit bibs! Her hat started to float downstream but luckily some nice young person was there to stop it. When we got out of the water on the other bank we looked back to find that Ann had stumbled in the water as well.
The dry suit did an excellent job of keeping out the water for most of the trip, and now it was doing an equally good job of keeping the water in! Which meant that every time jane got into a little deeper water the pressure on the suit forced the cold water inside the suit to squeeze up! Not comfortable. At this point our hike became a march to get back to the trailhead as quickly as we could to get the women out of their wet clothes. Unfortunately Ann fell one more time in the water and then took a tumble on some rocks on the land and bruised her elbow and banged up her knee.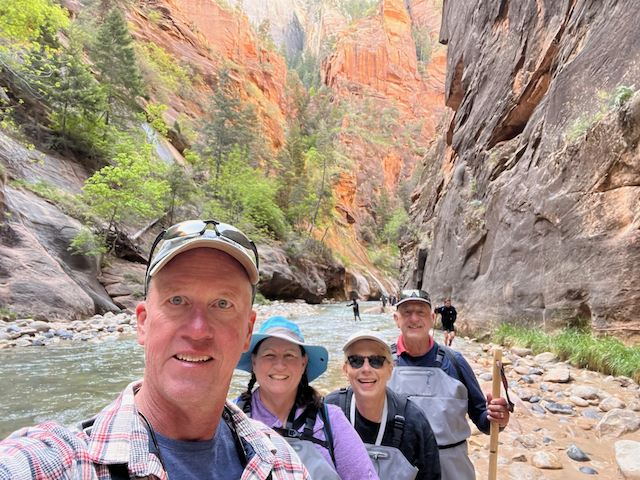 Despite it all we still enjoyed some awesome scenery along the way. When we arrived at the trailhead it was quite a process to remove all of our wet gear. I pulled open the cuff on Jane's dry suit and a gallon of water came pouring out. We still had a one mile hike to get back to the busses which was just about enough time for their wet clothes to dry out.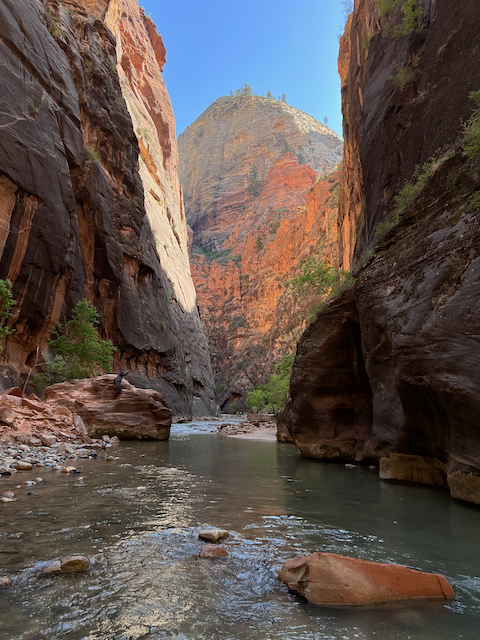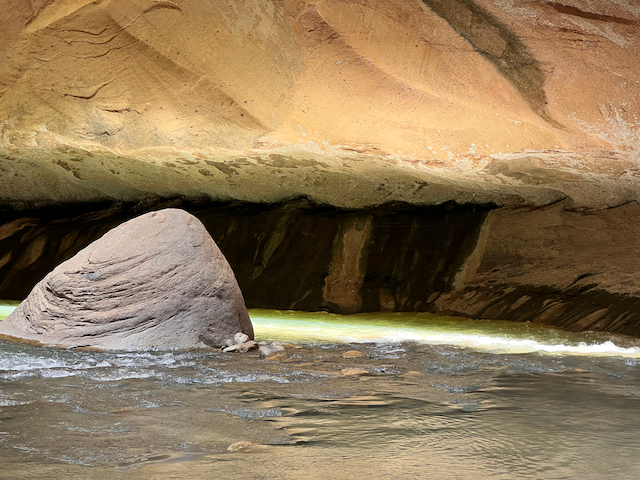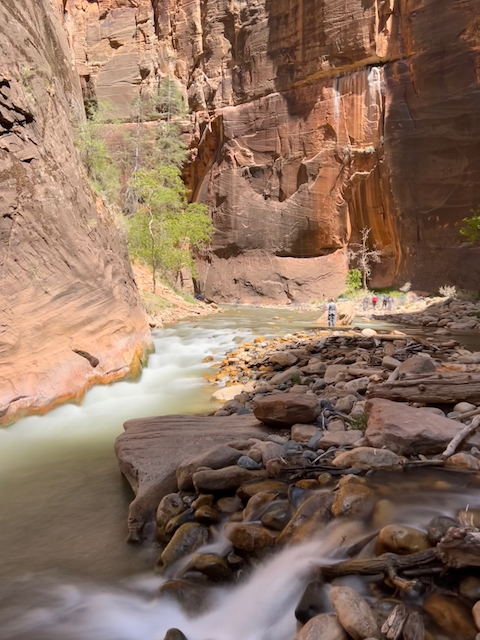 We were all amazed and surprised at the casual nature of the outfitters in town. Here is some stuff, try it on and let me know if you need a different size. Signing the waiver of liability was totally on the honor system, and paying seemed to be an honor system thing as well. How they knew what we had taken or paid for, or even returned is a mystery. I guess a dry suit is not something you are likely to steal, but it felt nice and refreshing to not have to sign and number and carefully check in and out each piece of gear!
This is a hike we would definitely repeat with our family if we ever get back here again.
We arrived safely back at our campsite where we packed up some drinks and our swimsuits and headed to the east side of the park. We needed to get inside the geofence area to get in the daily lottery for a chance to hike the Wave. They only allow 64 people a day into the Wave so it takes some luck. After driving even further than we wanted to we finally got enough cell signal to enter. It was kind of funny with four of us and four different generations of iPhones each with different signal strength trying to get the recreation.gov app to work with only a single bar of LTE signal!
After finally succeeding in getting two of us in the lottery we gave up and headed over to Ann and Jerry's hotel to use the hot tub! That felt great. Jerry offered to buy us all dinner if we could go to a sports bar where he could attempt to turn us into Phoenix Suns fans.