Grand Teton - Cascade Canyon
The first ferry across Jenny lake leaves at 7am she said. We decided to shoot for the 7:30 crossing, which turned out to be a brilliant move. First we avoided lots of crowds, and second, we were up into Cascade Canyon in time to see a group of bull moose waking up!
One of the nicest hikes in Grand Teton is the Hidden Falls, Inspiration point, and Cascade Canyon combination. It is about a 480 foot climb for the first mile and then it evens out for the walk through the beautiful glacial canyon. By leaving early we avoided the people coming down the trail as we were heading up and it was generally a lot more peaceful.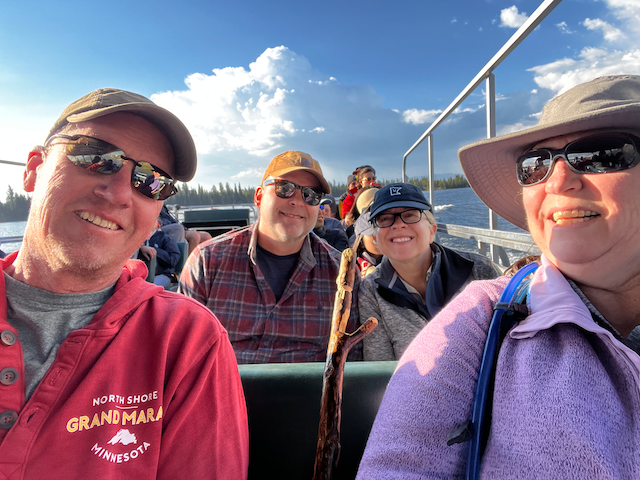 The first stop was hidden falls, a beautiful waterfall on cascade creek that feeds into Jenny lake. The lake temperature is 60 degrees at the surface, "but gets a little more chilly if you dive down." Not much chance of that happening.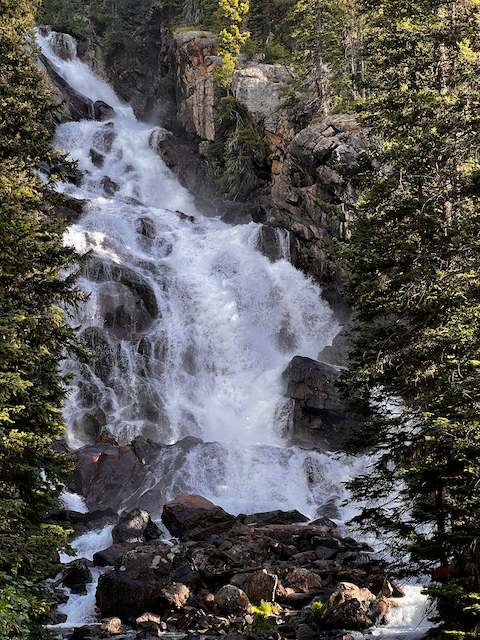 A further climb leads you to inspiration point. On the way up this climb there are a couple of places to stop and take in some of the peaks in the Teton range. Including this picture of Teewanot. The contrast of the morning sun against the storm clouds over the peak was awe inspiring already. And yes we did hear thunder, but thankfully we did not see or experience any lightning!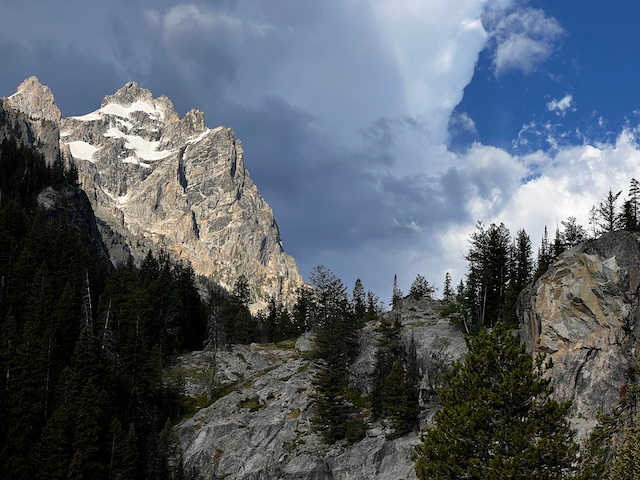 When you arrive at Inspiration point you have a fantastic view of the lake. I love this shot that shows the ferry leaving the dock leaving a feather-like wake.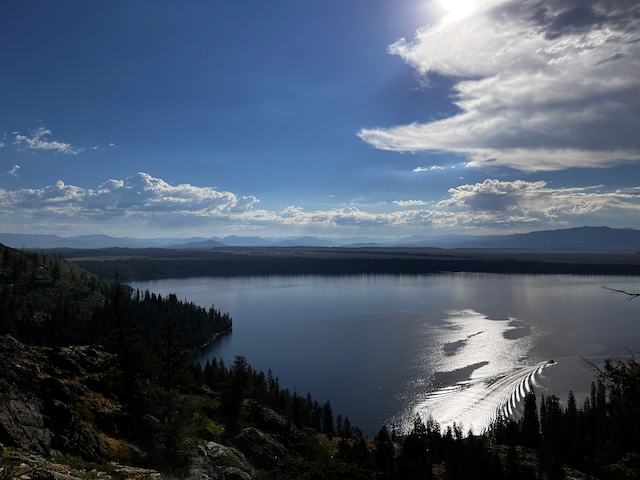 After inspiration point the trail levels out some, and so we were just enjoying a nice walk back into the Cascade Canyon. We caught a few raindrops as the storm clouds passed over us, but not enough to get wet. We happened to talk with a couple of guys coming down the trail who told us they had just seen a couple of moose laying in a meadow about 5-10 minutes up the trail. We were lucky enough to spot them when we arrived! It was a bit disappointing to see nothing but antlers, but It looked like they were beginning to stir so we decided to hangout a while and see if anything happened. During the wait we amassed a huge collection of very bad photos of moose antlers behind plants in the deep shade.
But sure enough after a 15 minute wait one of them stood up. This caused a second one to rouse itself as well. Eventually they ventured into some light bright enough to get a few decent photos. Although 99% of our photos are taken on iPhones these days we were glad to have brought along our old Sony A6000 with the telephoto lens to get a better closeup.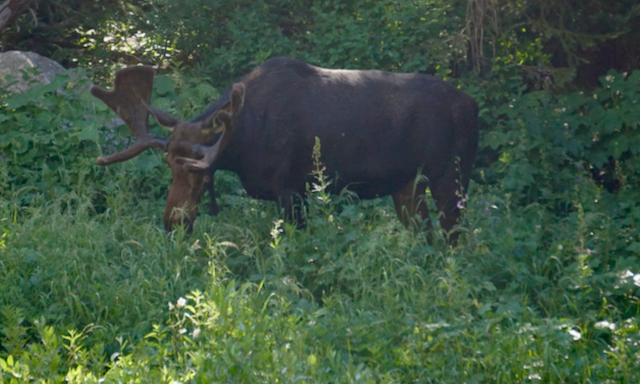 This little encounter reminded us how lucky you are to see wildlife while hiking along. The animals are so hard to spot if they are not up and moving. We often wondered how often we passed some kind of wildlife that was just quietly lying behind a bush a few feet away.
We continued further into the canyon now in hopes of seeing a bear (at a very safe distance). The closest we came to a bear was a surly teenager who ruined his grandma's entire day with his behavior. A side note here - it seems that leaving early is a good strategy because it is mostly people our age on the trail and some families with younger happy children or cute babies in backpacks who get up early in the morning. We noticed a lot more teens on the trip down in late morning.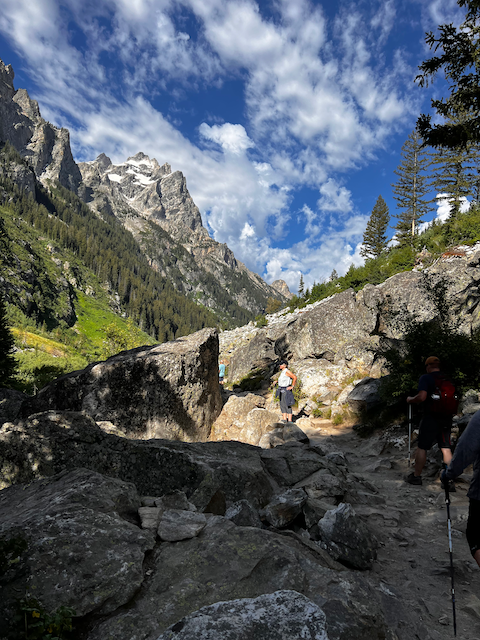 We arrived back at camp in time to make some lunch. I guess I really worked up an appetite because caesar salad with chicken never tasted so good. We voted for a lazy afternoon of reading, and checking out the beach. Around 4:00 we took a short drive up Signal Mountain to take in the views of the "hole." Fun fact: The term hole was a common term to describe a high altitude valley. Further fun fact - the term "dude ranch" specifically the term dude was a pejorative term in the late 1800's to refer to a city dweller who needed to be pampered and was very likely unable to look after themselves in the wilderness.