Progressive Trivia Champions!
On our first day at sea we looked at the schedule of activities on board the ship and Jane said, "We should go take a bridge lesson." Having tried to learn bridge before I thought it sounded like a fun idea, maybe it would stick this time. So we showed up at the appointed time of 10AM and there were a bunch of us. We were among the youngest but certainly not the only people in our age bracket. Our teacher was named Rhoda, clearly a longtime New Yorker. Also a lifelong teacher, she taught reading for most of her career. Most of the other beginners had never even played cards before so I have to give them credit for starting with Bridge. All our nights of 500 were a definite advantage in the playing phase of Bridge. We didn't even start learning how to bid until the second lesson, but before we knew it we were adding high card points, learning about 5 card major openings, Jacoby transfers, Staymen, forcing bids, no trump responses, and the other conventions of American Standard bridge bidding!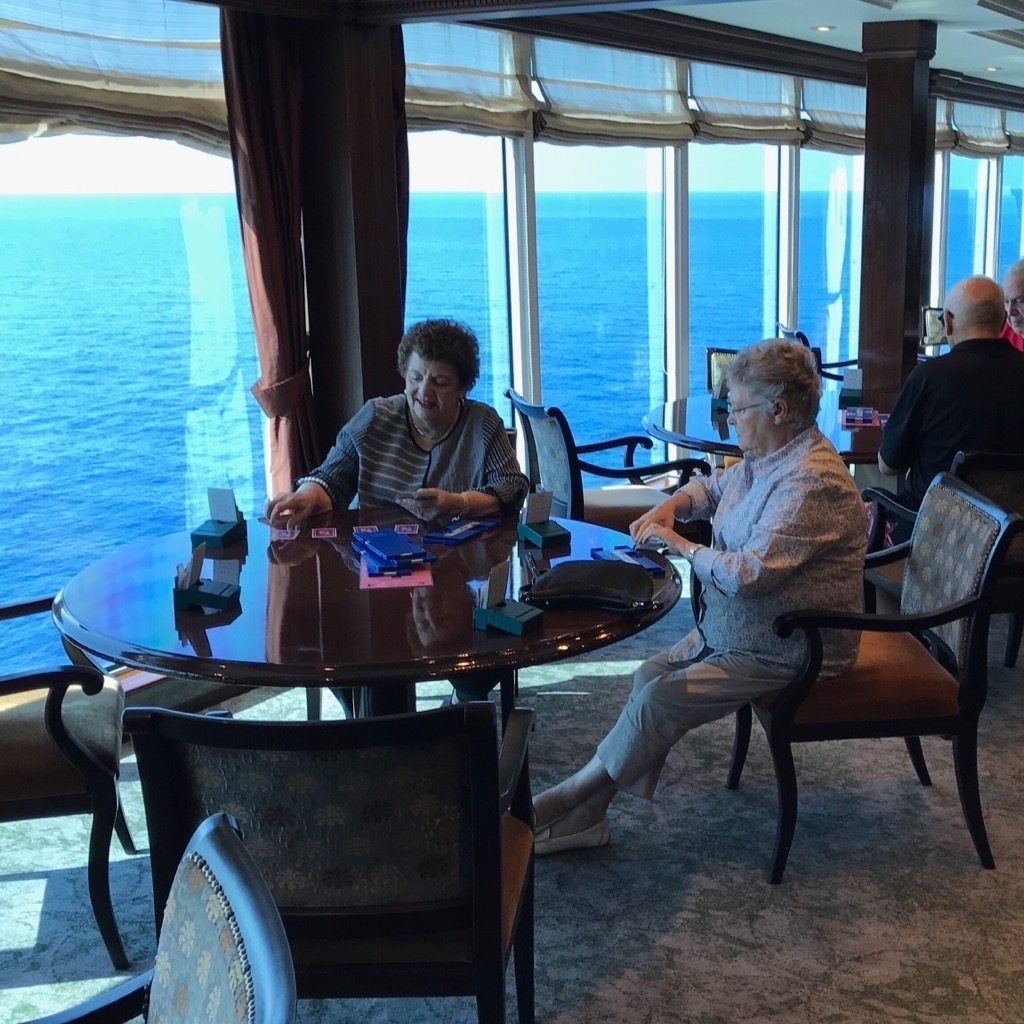 After bridge I was off to check out the cooking class for Indian Butter Chicken, and Jane was headed to water color painting class. I turned out that I had misread the time for the cooking class, but at least I got to taste the result and get the recipe! I also wanted to check out the trivia challenge and then sing with the Highseas Choir. (get it high-C's). I showed up at trivia at 12:15 and was invited to join a couple from Canada to see if we could form a team, we were soon joined by Beverly (a librarian!) and so it was that on our first day we had a team of four, which everyone else was at 8! Unsurprisingly we were second to last after the first day. However in this progressive trivia challenge the points double each day. So on the next day I made Jane join in, and little by little we grew our team, and our scores increased and we moved up the rankings. By the last day we were in second place! One part of our strategy was to make use of the fact that you can request categories. I requested computer programming and cooking. The "programming" question the next day was "What does HTTP stand for?". Ha! Only two of us in the room knew the answer to that one. Its not really a programming question if you ask me, but I'll take it.
Starting in second place on the last day, we knew it was still almost anybody's game as the points that day were worth more than all the previous days put together. But after the questions were in, and they read through the answers we realized that we had only missed two and many other teams were not cheering too much as the answers were read. When it was all added up we won!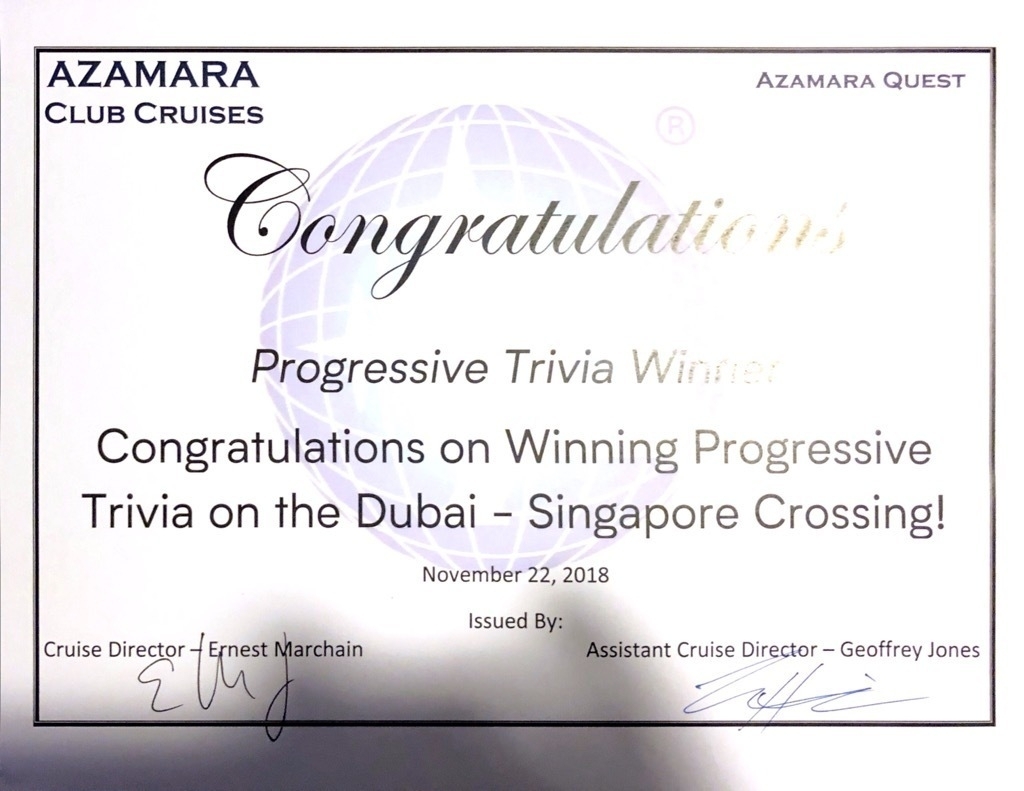 Jane made three watercolor paintings on the ship during her painting lessons, and I think she should keep it up. There must be someplace in Minneapolis to take some art lessons to keep improving.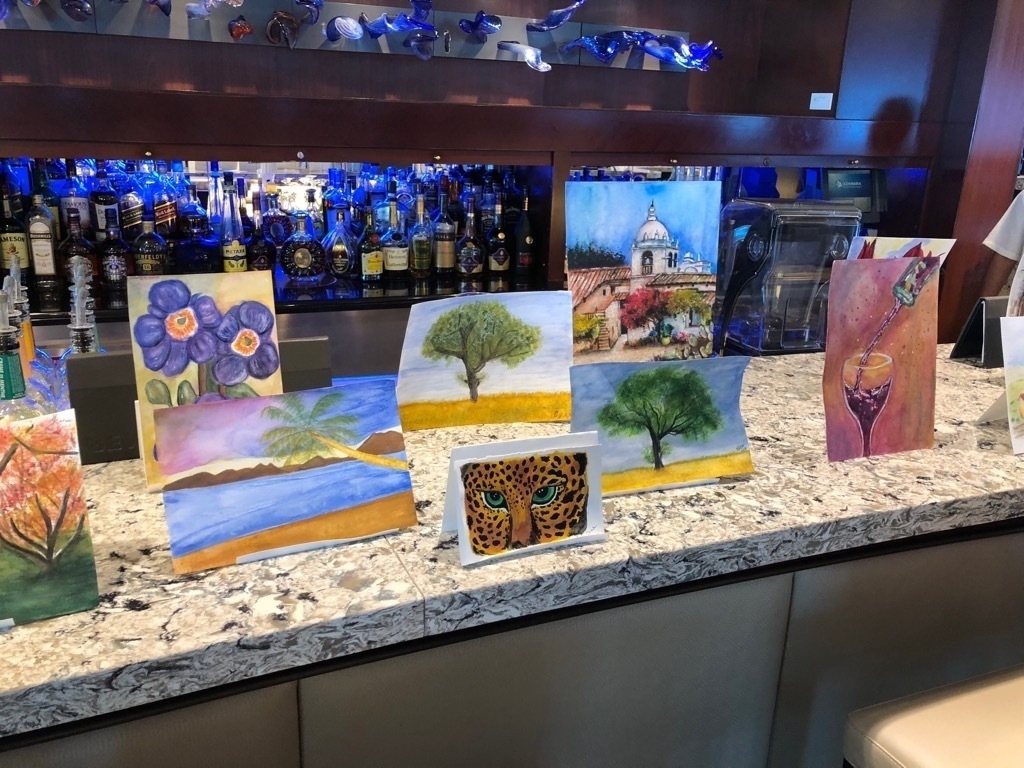 All in all the days at sea went by very quickly, and we had planned really great meals in the specialty restaurants on board for most evenings at sea. After dinner we did enjoy some of the shows. Except for the hypnotist. I volunteered to be one of the 10 to be hypnotized but my brain is just way to busy to enter a trance in a situation like that (or maybe ever). I was quite convinced that I could not be hypnotized before I even walked up there which meant I wasn't a good volunteer to begin with. So no surprise I was the first volunteer to be dismissed. He insisted on having 10 volunteers so I figure he is just playing the odds that a certain percentage of the population is susceptible/able to be hypnotized and some are not.
I also sang in the choir, which was fun, but at the end of it all we were not very good. You have to listen to each other to sing, and most people in the choir were not good listners. Still it does make me want to get my voice back in shape and join a choir back in Minneapolis.