The Table
Last night we had a fabulous dinner experience! On Prince Edward Island there is an old church, that once was a barn, but is now a restaurant. It is open every night for dinner for one seating of around 20 people. Their menu says they are "a love letter to Canadian food and wine." The menu changes every week, and they don't repeat, ever, at least not in 8 years.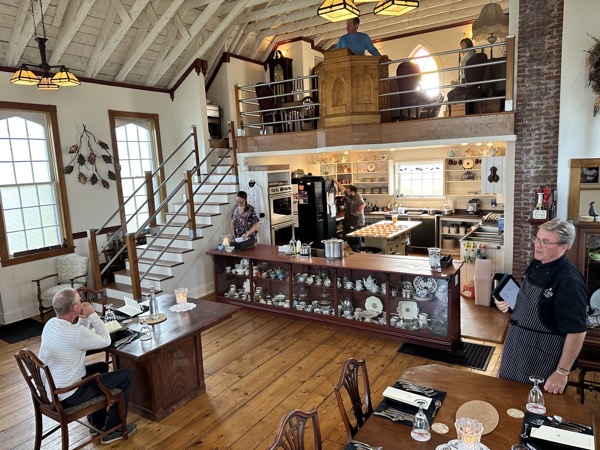 All the foods are local, that is they use ingredients from PEI that mostly come from just a few km away. They don't use any ingredients that are not grown in Canada. So, no lemon, or lime, or black pepper. Instead they make pepper from the flower cluster of the Green Alder, They are super creative and the food was just awesome. One of the highlights of the night was the Halibut. One of their friends/suppliers, a fisherman, showed up on their door a couple of days ago to let them know he had a 50 pound Halibut he had just caught, he thought they might want it. We are glad they did!
The kitchen area is open for everyone to see the small staff working to prepare the next course. And before you eat the course the chef explains what you are getting. Then as you are eating he walks around to answer questions or just chat with every table. They pair each course with a Canadian wine. The result is a 7 course meal that goes from 5:30 - 9pm, a beautiful night of food and drink.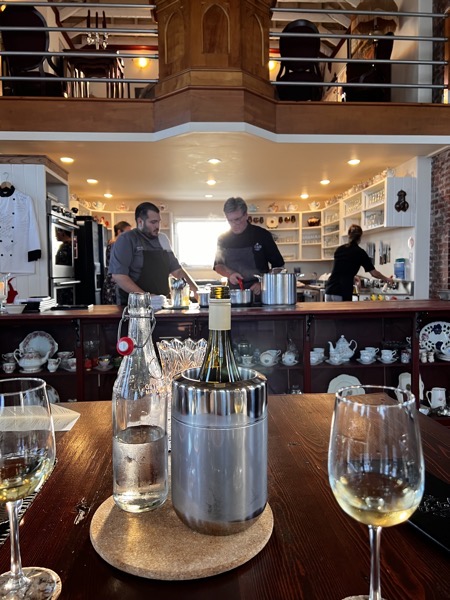 roasted carrots, marinated carrots, cows's blue cheese fritters, basil aioli. The blue cheese fritters (Choux batter with blue cheese mixed in) were better than any fried cheese curds I've had in my life!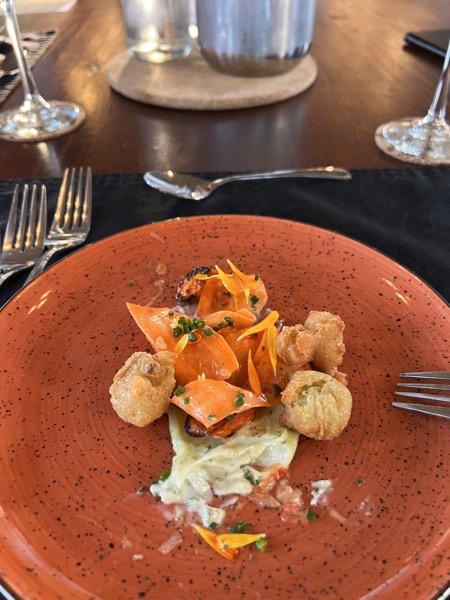 celery root soup, roasted celery root, pickled mustard seeds, celery.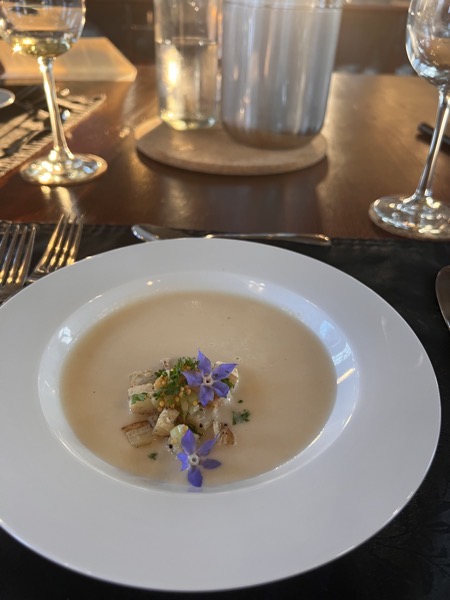 french river halibut, clam cream, dill oil potato, chives. SOOOO GOOD. We were imagining the staff milking the clams, but it turns out it is more like homemade clam sauce mixed with cream and then reduced.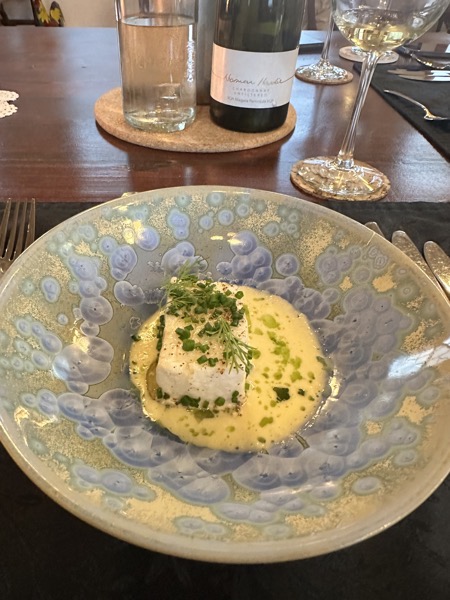 belle river rock crab mezzalunes, charred tomato aioli, cured egg yolk. What? Cured egg yolk salted and dried and then they grate it over the pasta! I'm gonna try it.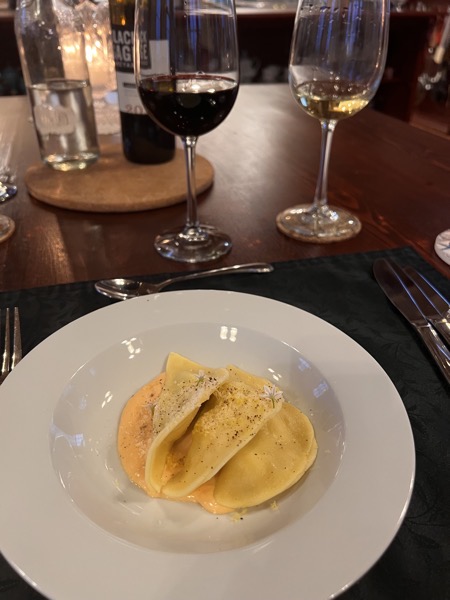 cold water shrimp, our bread, herbs, crispy shallots. The chef described it as a mid meal snack! Yummy.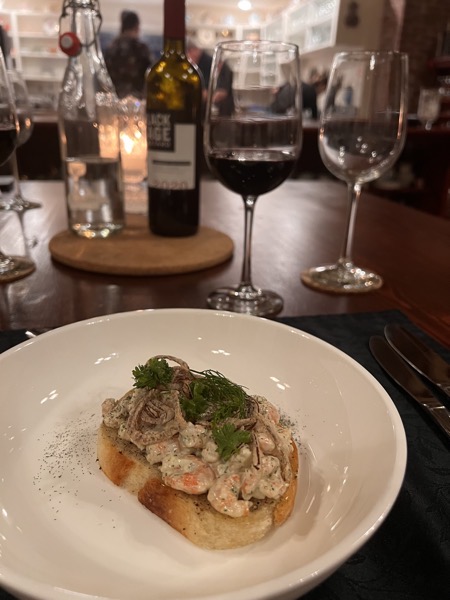 braised island short rib, potato puree, market vegetables, ox tail jus. I've hated beets for 50 of my 59 years. But I have to admit that these were not bad!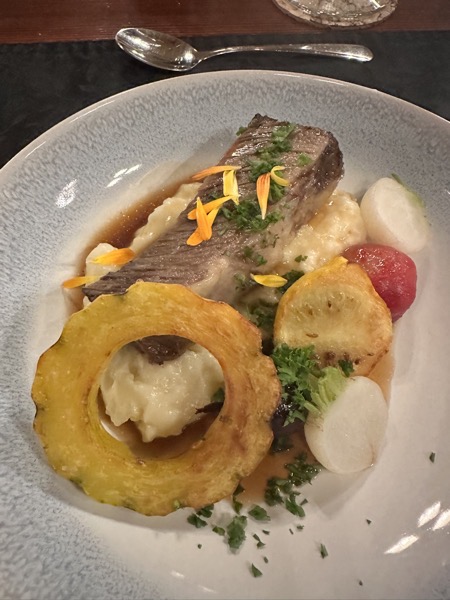 geoff's apples, maple granola, mint oil, whipped sweet clover cheesecake. The apples were warm, but still crunchy, and the whipped cheesecake was like a thick whipped cream. A delicious ending.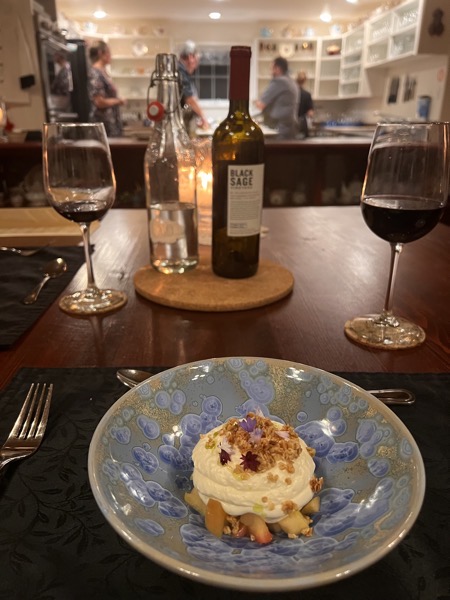 Jane's favorites: The carrots and the Halibut
Brad's favorites: The Halibut, the carrots were a big surprise and the fritters were just so good. Learning about cured egg yolks.