I've been back in Decorah for less than 24 hours, its been a little more than 48 hours since we got off the cruise ship in Valparaiso. It was great to get a good nights sleep last night after having an overnight flight from Santiago to Dallas. Boy do I wish I could sleep on airplanes.
The Celebrity debarkation process was about as painless as you could make it. We woke up, showered and dressed, got some coffee at the Cova Cafe, checked our email one last time, and then walked off the ship. Like Buenos Aires, the port in Valparaiso is not really designed for cruise ships, so we got off the ship and then took a bus through the containers to the actual terminal. We found our luggage right away and realized that this process was so efficient we still had about 45 minutes to wait before our guide, Mac, from La Bicicleta Verde It was a little odd this morning because Chile was supposed to go off daylight savings time at the same time the US was supposed to go on daylight savings.  So, in one day we would go from being 3 hours ahead of home to just one hour.  Strangely the government of chile decided at the last minute not to go off daylight savings time, so some people were really off.  Mac showed up just after 9:00, and we got our tour underway.  We started by exploring the hills of Valparaiso.  Its an old shipping town, started when Nitrates were a big natural commodity that was shipped out of here.  Before the Canal, and before artificial nitrates had been invented.  So there are many beautiful old shipping houses owned by the british that have been converted into small hotels.  Here you can see one last view of our ship from the hills: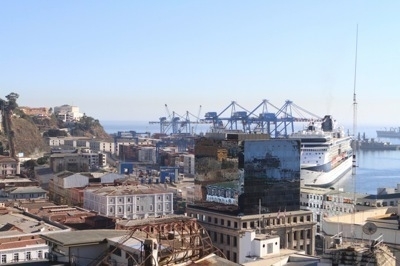 We continued on past the first Lutheran Church in Valparaiso, and then had to avoid a pack of street dogs.  All chilean cities are full of street animals that are well feed and mostly well behaved.  The problem this morning was there was one female in heat and four males that were trying to get her attention.  Things got a little violent, so we headed off in the opposite direction hoping to lose the pack.
Mac told us that the day before this whole area of the city had been without power.  Now as you can see from this picture Valparaiso has a very modern system of electrical distribution: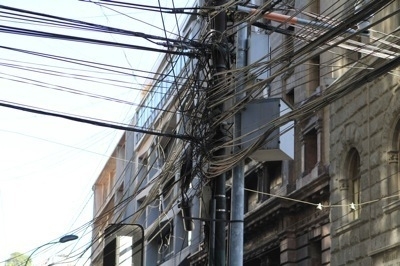 We were told that whenever there is a power loss, rather than trying to untangle the mass of wires and fix the problem, they simply find an area of the city that has power and then run a new wire to the blacked out area from there.
After the hill tour we headed down the coastline to visit some of the beautiful coastal towns, suchas Vina del Mar.  This would be an awesome place to come back and visit on a land tour.  The beaches are spectacular, and there are some really awesome restaurants looking right out over the water.  Mac got us number one at the most popular restaurant along this stretch.  People literally line up outside this restaurant waiting for a table.  Something that is unheard of in Chile.  We started off with a couple of apetizers:  Machas ala parmesan (razor clams smothered in a parmesan cream sauce.)  The only way to sum up this dish is:  To Die For!  We also had Camerones pil pil (little shrimp scampi).  Then for the main course we had freshly prepared fish.  They have about 7 different kinds of fish on the menu, each one with several different preparations.  I had Albacora (swordfish) grilled, and Jane had the Corvina (chilean sea bass) also grilled.  We had a side of Arroz and thought we were in heaven.  What a great last meal of the trip.  Oh, lest I forget , I also had my first Pisco Sour.  Pisco Sour is a great chilean drink made of a distilled wine (kind of like brandy) served with lime juice and simple syrup.  Just one please!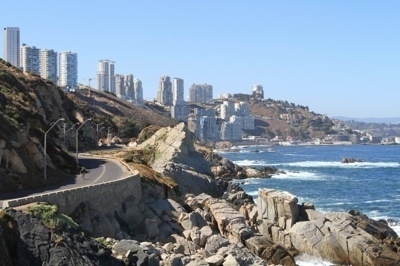 After our delicious lunch we headed out to wine country.  The Casablanca valley is between Valparaiso and Santiago.  We stopped at the Emiliana Organic Vineyards, for a wine tasting and a walk around the vineyards.  We had a great wine steward, named Joshua, who served us samples of their premium Emiliana Adobe line.  This is sold in the United States under the Emiliana Natura label because of  a trademark dispute with the Adobe software company.  Please lawyers find something more productive to do with your time.  The highlight was their Gewurtztraminer, its not nearly as sweet as the German Gewurtztraminers and was very refreshing.  In addition to being organic they also practice Biodynamics (you'll have to look it up).  This sounds like a lot of hokum to me, but you can't argue with the results.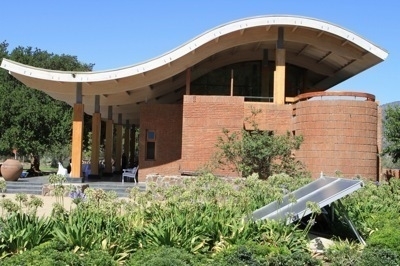 Finally, what trip would be complete without some cute animals.  The vineyard also raises Alpacas, which we learned are part of the Camel family.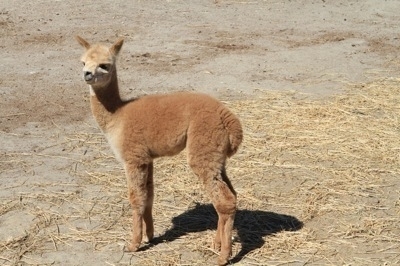 With the vineyard tour over, our last stop was the Santiago airport.  We had lots of time to kill, since we got there about 5pm and our flight wasn't supposed to leave until 10:05.  Of course at 5:00 the American Airlines counters were not even open yet. Then at 6:00 when they opened it was a mad house.  hundreds of tired cruisers all anxious to get home, and all accustomed to being pampered for two weeks were now forced to stand in extremely long lines like so many commoners.  It was not pretty.  An interesting thing about flying out of Santiago is that all the outgoing flights leave in the evening, this is partly because you want to time your flight to get in to the states at a decent hour of the morning.  Say 6:00 AM or so.  But all the incoming flights get in to Santiago at 7 or 8 in the morning anyway, so why not have an outbound flight at 10AM?  By Chilean law, all outbound flights must have a complete mechanical inspection within 12 hours of their flight by a Chilean mechanical team.  The reason for this law dates back to 1972 when the Uruguayan rugby team crashed in the Andes and resorted to cannibalism to stay alive.  The Chilean legislature wanted to ensure that nothing like this would ever happen again so they passed this inspection law.  The result is that the flights that leave in the evening are never delayed for mechanical reasons, because they've had all day to inspect and fix everything.  Nice, makes you feel safe.
Well, that brings us as far as our last flights, which were pretty uneventful.  A bit of turbulence somewhere between Santiago and Dallas is about the only thing worth mentioning.  This was an awesome trip.  Thanks again to all the great new friends we made on board the ship for making it a fun time!