cruise wrapup part i
Its the last day aboard ship, and it has been a day of mixed emotions. We are excited to get back to our friends and family in Decorah, yet we have had so much fun on this cruise, and we have actually met some great people as well. Some of these people get to stay on the ship for the next leg of the cruise and as we think about our long day tomorrow and our overnight flight we are a bit jealous that we don't get to go through the Panama canal, and then fly home from Fort Lauderdale. I'm amazed that I could even consider staying onboard for another two weeks, but we've learned that its really all about pacing (note to self, next time do not buy the unlimited drinks package.)

The cruise critic message boards really provide a great service. Not only can you find good reviews and recommendations of the non-ship excursions, but we've met a lot of fun people, and have been able to enjoy excursions with people that we met online prior to the cruise. So to Carol and Mike, and Carol and Ralph, and Scott and Gai, and Kristine and Craig (our aussie friends)… Thanks!! To Jonathan and Nancy and Jo, we look forward to the final Martini rankings, Aloha! And to Shila and Yogi, Kim and Rico, Rachel and Howie, thanks again for the fun dinners! Hopefully we'll cross paths with some of you again on a future cruise.

So, where have we been? Here's the super-fast summary of our travels:

Decorah to MSP with Jenkins, Thanks for the ride guys!

MSP to Dallas

Dallas to EZE (Buenos Aires) cross town transfer to Jorge Newberry and then on to Iguazu

Two fantastic days at Iguazu falls. If you are looking at this cruise or planning a trip to South America, do not skip Iguazu. The views are fantastic.

Iguazu back to BA and on to the ship!

BA to Montevideo, Uruguay

Montevideo to Punta del Este

Punta del Este to Puerto Madryn – Desert like climate but great penguins and sea lions.

Puerto Madryn to Cape Horn and the Ushuaia (Ushuaia gets my vote for favorite city of the trip) Its the southernmost city of the world, and the hiking and views on our hike in Tierra del Fuego national park were just phenomenal!

Ushuaia to Punta Arenas… OK, but not that spectacular. If you haven't seen penguins by now, you should definitely do the trip here to see the penguins.

Punta Arenas to Puerto Montt. The port area is not spectacular, but once you get out into the country or to one of the other smaller neighboring cities its great. Beautiful scenery…. second favorite city. Of course the zip line ride really made this stop worthwhile.

Puerto Montt to Valparaiso to Santiago

Santiago to Dallas

Dallas to MSP

Ride home with Sandy Larsen! Wow gone 16 days and no parking charges at the airport!

Other stuff:

While on board, we used up 435 minutes of internet time.

We drank 2 bottles of wine :-) or more…

Jane won $700 at the craps table

We really enjoyed many of the shows onboard the Celebrity Infinity! We had become pretty much jaded about cruise line entertainment, but the quality here was really high. I missed having a magic show, but the music was mostly really great, except for the aging former Argentine star, who just doesn't realize its time to hang it up. When you are on a cruise ship and you have to start your show with a video about how great you used to be, that is not a good sign! Travis, from Nebraska, you rock. The a cappella group top shelf was great too. It was hard to listen to this recently graduated group of young guys without thinking about Kaia's future as a musical performer.

No summary would be complete without some room pictures, so here are a few pics of our Celebrity Suite. This suite will be redone when the ship is Solticized in November, but we thought it was perfect for this cruise. Not only was the room spectacular, but our Butler, Teguh, was the most Amazing person. No job was too big or too small, he really made our cruise seamless. From sneaking into the room before I was awake every morning so that my coffee was hot and fresh on the table, to organizing a part for 20 in our room one night. He was the best!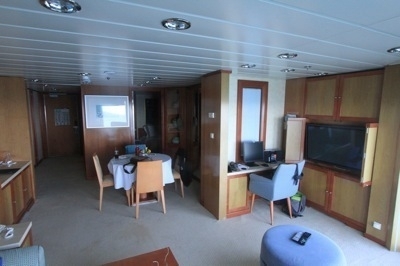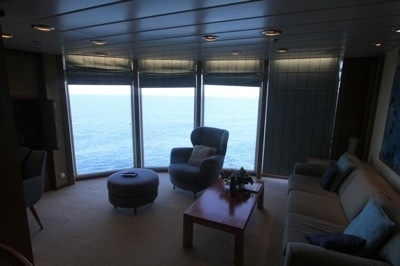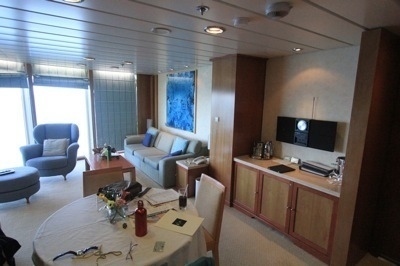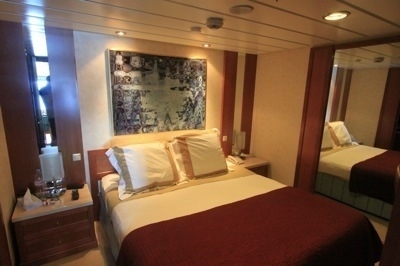 Jane says I can type and read at the airport tomorrow, so I think its time to get dressed for dinner one last time!