my name is ferdinand and i'll be your waiter
We have great table mates this cruise! Kim and Rico from Houston, Shyla and Yogi from Ohio, and Rachel and Howard from New Jersey. We look forward to sharing stories of our day with them each night at the late seating. This is worth remarking on because we have seldom had good luck with our dinner companions. From the guy from Hutchinson who kept asking me "you gonna eat that?" to Marge (not sure thats her real name) from Jersey (definitely sure she was from Jersey) who complained every night. Here's a sample of one conversation:
Marge: They never have any good soup on this cruise!
Brad: What kind of soup do you like?
Marge: Cream of Mushroom
Brad: Well, we had that last night
Marge (exasperated): But I didn't order it last night!
This sort of luck has continued for us cruise after cruise, until this one. Except for the cruises we have taken with our great friends Brian and Holly! Anyway since it is just the two of us on this trip, we are grateful for the companionship. Now lest you think this post is going to be about dinner and our waiter, I'm going to shift gears and tell you about our day. We were in Puerto Madryn, but the excursion we had planned was a trip to the Valdez Peninsula. This was an excursion that we booked outside the ship through Forastero Tours.
We were among the first 20 people off the ship this morning, wanting to get ahead of all the big tour busses that were heading the same place we were. We met our guide and driver on the pier and hopped in their car. Our guide introduced himself – I'm not going to tell you his name, because I'm convinced he will be an excellent tour guide someday and I don't want what I'm about to relate to you to harm him in any way – and proceeded to tell us that this was his first time leading a tour, and that he was still studying for his certification as a guide. He also hoped his english was good – it was passable. The next thing he should have said was, "so you're in luck, your tour today will be half price!" But that isn't what he said. In fact he didn't say all that much, period. He did tell us that there are four main economic industries in Puerto Madryn, The Aluminum factory is number one, something, something, and then tourism.
Now, its a long drive from the port to our destination on Peninsula Valdez, about 169km in fact. The other interesting factoid about this part of the world is that the ecology around Peurto Madryn is steppe or steppe-like? A large unforrested region of grassland. This was a combination of small shrubs and sand. In other words there is really nothing interesting to see on this drive, except for the occasional Guarananca or Piche – but I'm getting ahead of myself. Well, not really, there were two destinations for todays trip. First, the San Lorenzo Penguin Colony, and second Punta Norte Sea Lion and Elephant Seal colonies. Oh yeah, the last 76km to the Punta Norte are on gravel road.
So after riding most of the way in silence, we are approaching the Penguin colony and our guide says. "In a few moments we will be at the penguin colony, here is a penguin" At which point he pulls out a picture of a penguin. He continues: "Penguins are black and white, with a white band up here (pointing to the white band on their head) and a black band here (pointing to the black band). I think both Jane and I were struggling to keep a straight face at this point, but one of us managed to say "interesting." Of course what he didn't know is that this was "interesting" in the Iowa/Minnesota sense of the word. Here concludes the fascinating section of the commentary on penguins. To summarize: They are black and white and have two bands.
Let me add a bit more detail that I learned on my own, and from the lecture given by the naturalist on board the Infinity… The penguins that we were about to see are called Magellanic Penguins, named for Magellan who sailed these parts back in the late 1500's. Maybe now you are getting a sense for the title of this post? Ferdinand? Ferdinand? anyone? anyone? Yes, Ferdinand Magellan! I'm so clever.
I know I'm sounding a little snarky about the tour today, but it really turned out just fine. because we were just the two of us on our own tour, we got to the Penguin colony well ahead of the masses, in fact we had the place all to ourselves, and that made it worth it right there. Would I have liked some more insightful commentary? Sure. But the kid was sincere and earnest so its hard to be too upset with him. If I'm upset with anything its with Forastero tours for sending us a rookie.
Anyway, without further ado, here are some penguin pics for you! yes, we were up close and personal with the penguins.


This little guy was not happy. I think he was hungry and Mom was not coming through.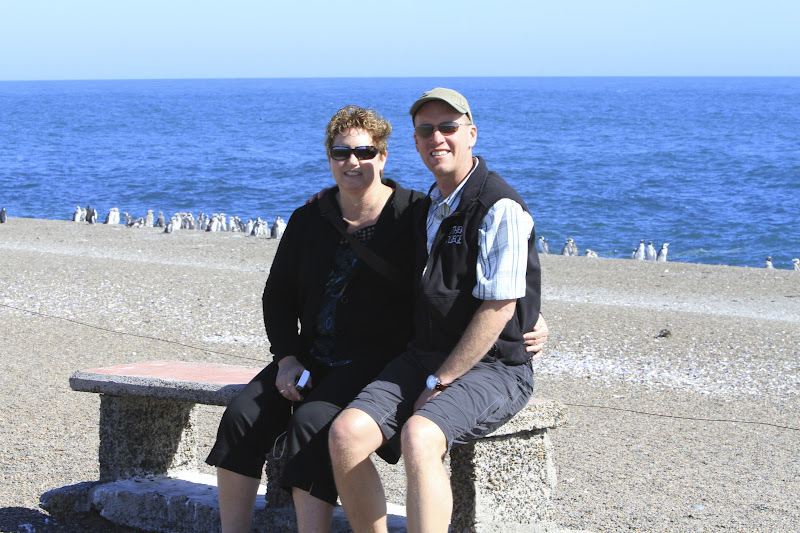 After the Penguins we continued further up the road to Punta Norte where we saw both Sea Lions and Elephant Seals. Punta Norte is the only place in the world where you can see the Elephant seals. At other times of the year, and at high tide, you also stand a chance of seeing an Orca coming into try and catch a baby Sea Lion, but no such luck today. Anyway, here's a shot of the beach, you can see the Sea Lions down below. the Elephant seals are way on the far right end of the coast here and we could see them with the binoculars, but not so well with the camera lens.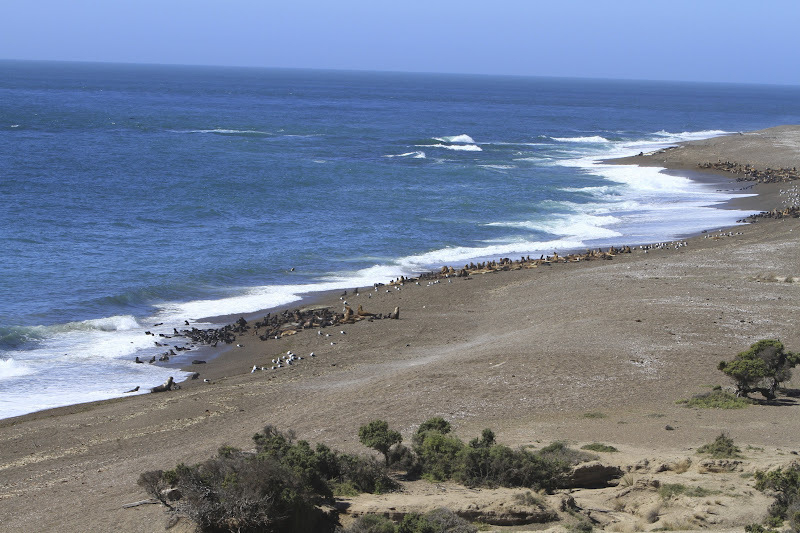 After watching the Sea Lions we found a nice place to sit and enjoy some sandwiches for lunch. While we were eating lunch the friendly neighborhood Armadillo (piche en espanol) came around hoping we would share with him, or her Im not sure how you tell with Armadillos.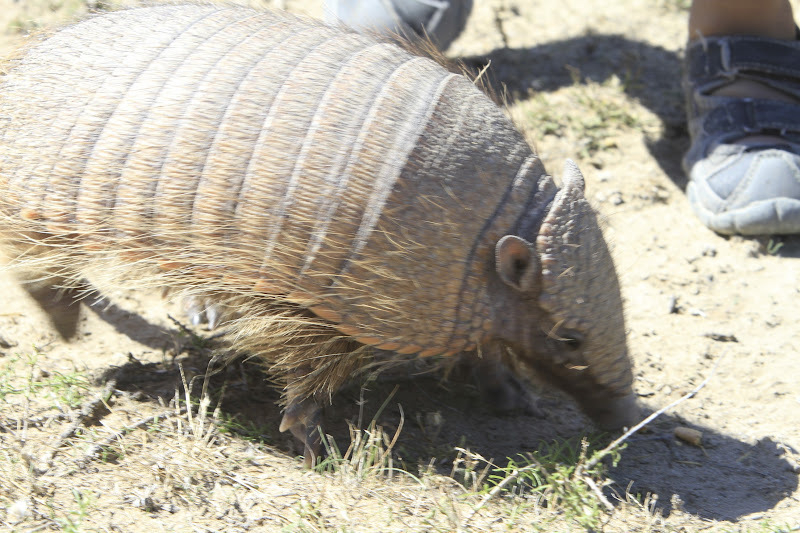 The last and final episode with our young guide happened on the way back to the ship. We had to take the exact same route back to the ship that we followed to get to Punta Norte, but lets just say the ride seemed shorter for some people than for others. Yep, he actually fell asleep on the ride back! I think the driver was ready to reach across, open the door and push him out.
Its funny how all of our excursions involve both a driver and a guide. In each case we are led to believe that the driver does not speak english. In this case I'm pretty sure the driver was much more experienced than the actual guide, as he seemed to know many of the other guides at Punta Norte. Furthermore I think he understood and probably spoke english just fine. He also did an excellent job of scanning the countryside and the road ahead for interesting animals. We could tell that he was the one who would spot them and then tell our guide what was coming up. His job today was to give junior some feedback on his first outing. I'm pretty sure he got an earful!
The day ended on a very positive note. Jane got on a roll at the craps table and ended the night over $400 ahead. She made a lot of other people at the table very happy too.