Cadillac Mountain Sunrise
I woke at 1:15AM, three and a half hours of sleep left. Darn, I did math, now my brain is awake. Breathe slowly and try to get back to sleep. 2:30, wonder what time it is now? 3:30, really? just sleep until the alarm goes off already! 4:30 both of us are awake but we might as well just lay here for 15 more minutes! Finally, my iPhone alarm goes off and I accidentally hit snooze – as if! I'm so used to just waking up at 5:30 every morning, that when I need to set an alarm to get up earlier my whole system breaks down. So why all of the fuss?
We had a reservation to watch the sunrise on Cadillac mountain! It is the first place to see the sun come up in the USA. I guess that is a cool feature. The recommendation from all of Jane's research was to get there an hour before sunrise, which was very good advice because of course the sky starts to glow well before.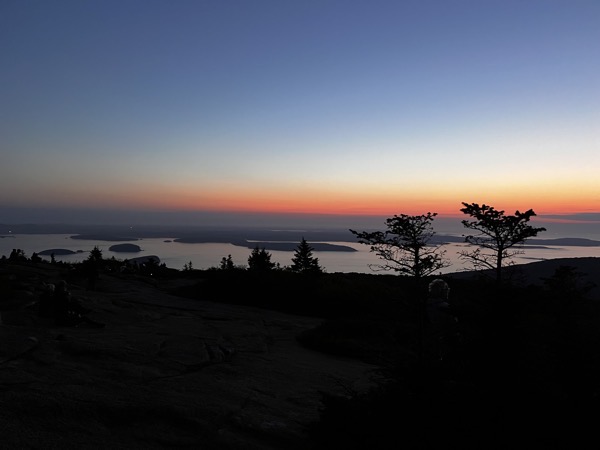 It is so cool to be sitting up there looking at the ocean and all of the little islands, and everyone around you is whispering, because its dark and nobody wants to spoil the vibe. We watch a cruise ship come into the area waiting to deposit its passengers in Bar Harbor for the day. We hear lots of fishing boats heading out, and we can see lots of moving points of light on the water.
We can tell there are some clouds on the horizon so there should be some nice color. And there is!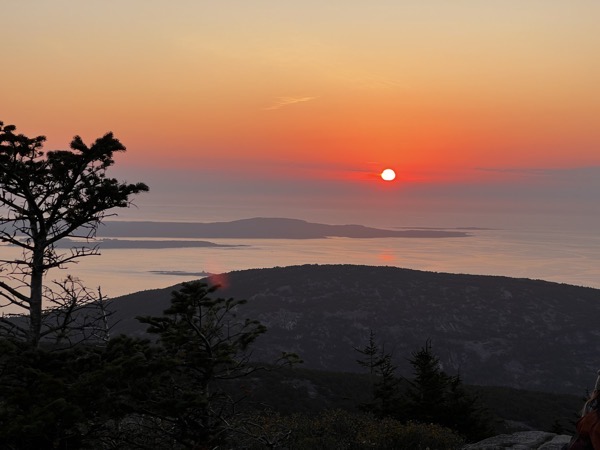 6:35 comes and the sun is obscured by the clouds on the horizon, but we wait a bit longer and are rewarded with a glorious sunrise! The volume level goes up all around us, and people leave their spots and start wandering around more. Everyone seems very happy! A beautiful sunrise and the promise of a new day.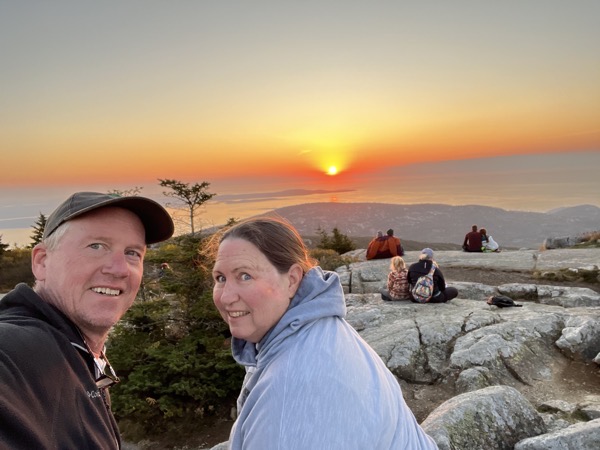 What a great way to start your morning. Next we think that maybe some Popovers from the cafe at Jordan's pond might be a good way to celebrate a successful sunrise, so we stop, but sadly they do not open until 9. It is only 7:30, so we head back to the camper for some pancakes instead.
Later some more hiking and another trip to Bar Harbor to find the internet. My coffee grinder has broken down, so I'll try to see if I can find a replacement or at least by some ground coffee for future mornings. We only have a week left, time has gone so quickly.