Two Hikes: Letchworth and Watkins Glen
We started this morning with a hike from the upper to middle to lower falls at Letchworth State Park, and ended with the Gorge hike at Watkins Glenn. What a great day of waterfalls!
I have already had to rethink my opinion of New York State, which is totally based on my experience with New York City and "New Yorkers". The rural parts of New York are amazing!
We spent last night at Letchworth state park, which claims to be the number one state park in the USA. I don't know how you can possibly back up such a claim, but as the pundits say, Letchworth belongs in the conversation! Beautiful, well kept, great hiking options …
I don't think our neighbors would vote for it… When we pulled into our loop and saw the water station we pulled over… Before we got out of the truck a guy on a bike pulled up to tell us "some guy just jack-knifed his camper, and is blocking the road. You might want to take your time! So we did, and even then the poor couple was no closer to a solution. They had unhooked their truck from the camper but were trying to reconnect in completely the wrong way! Husband and wife were barely talking to each other. But they did offer to move so that we could try to get around. We did, and we were all settled before they got into their site.
We had not thought to take anything out of the freezer for dinner, so we took out a couple of stakes and I put them in the sous vide while we headed to Eddy's to watch the sunset! It was very nice with a great view of the river gorge and the sun disappearing behind the bluffs!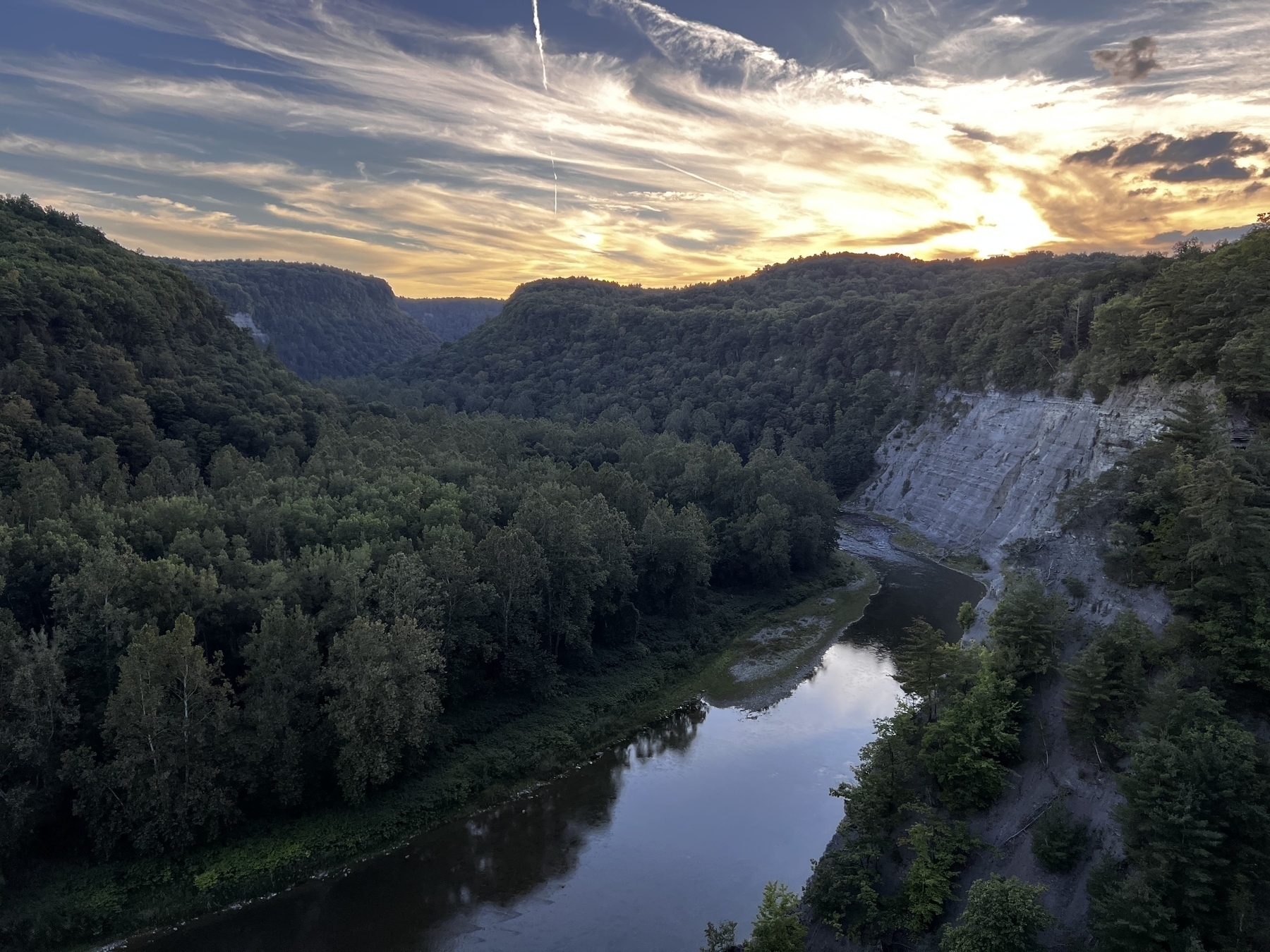 The morning was quite cool, we had to turn on the heat for a few minutes to take the chill out of the air. We dressed in layers and headed out towards middle and upper falls. Our plan was to hike from there down to the lower falls and back, about a 4 mile hike.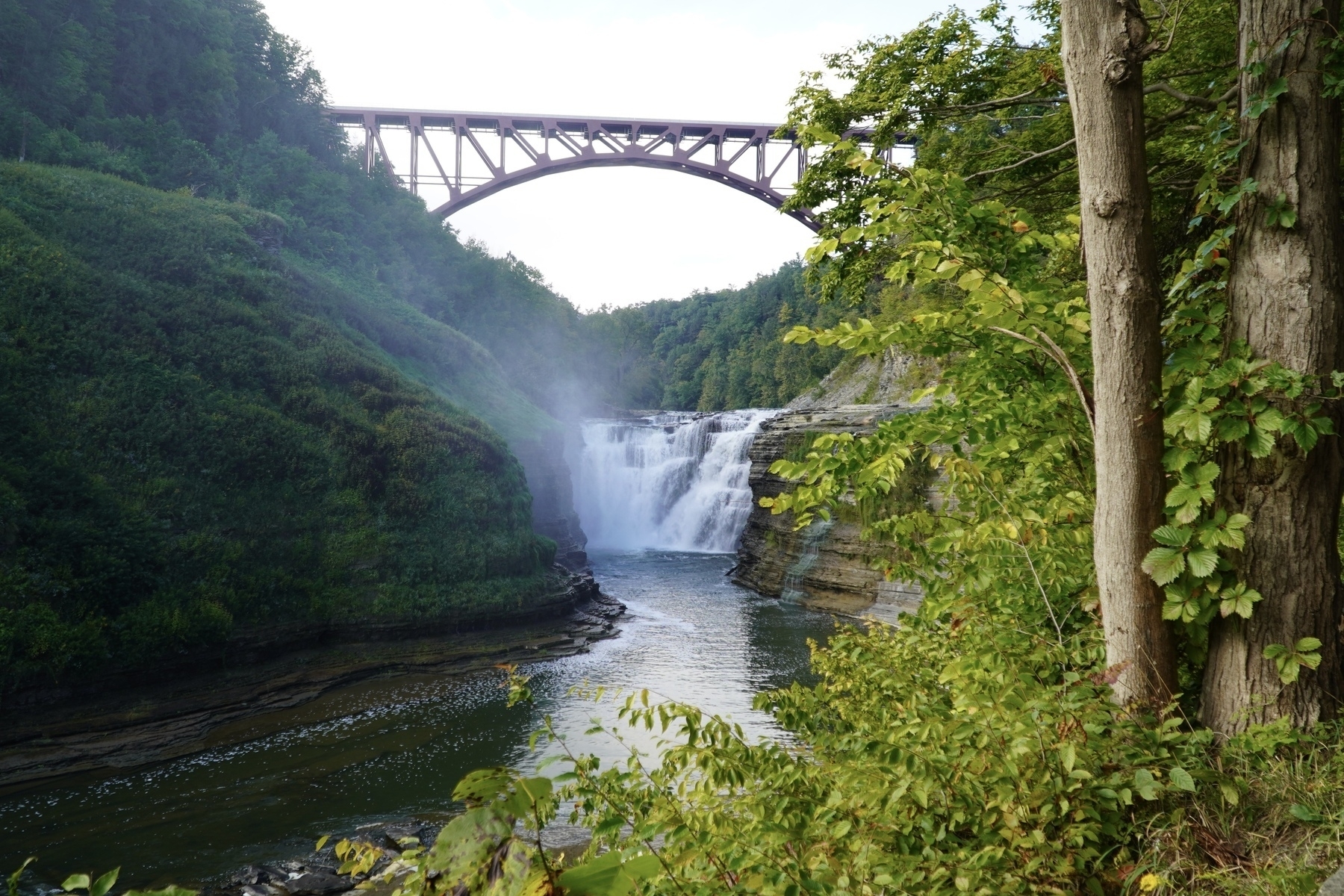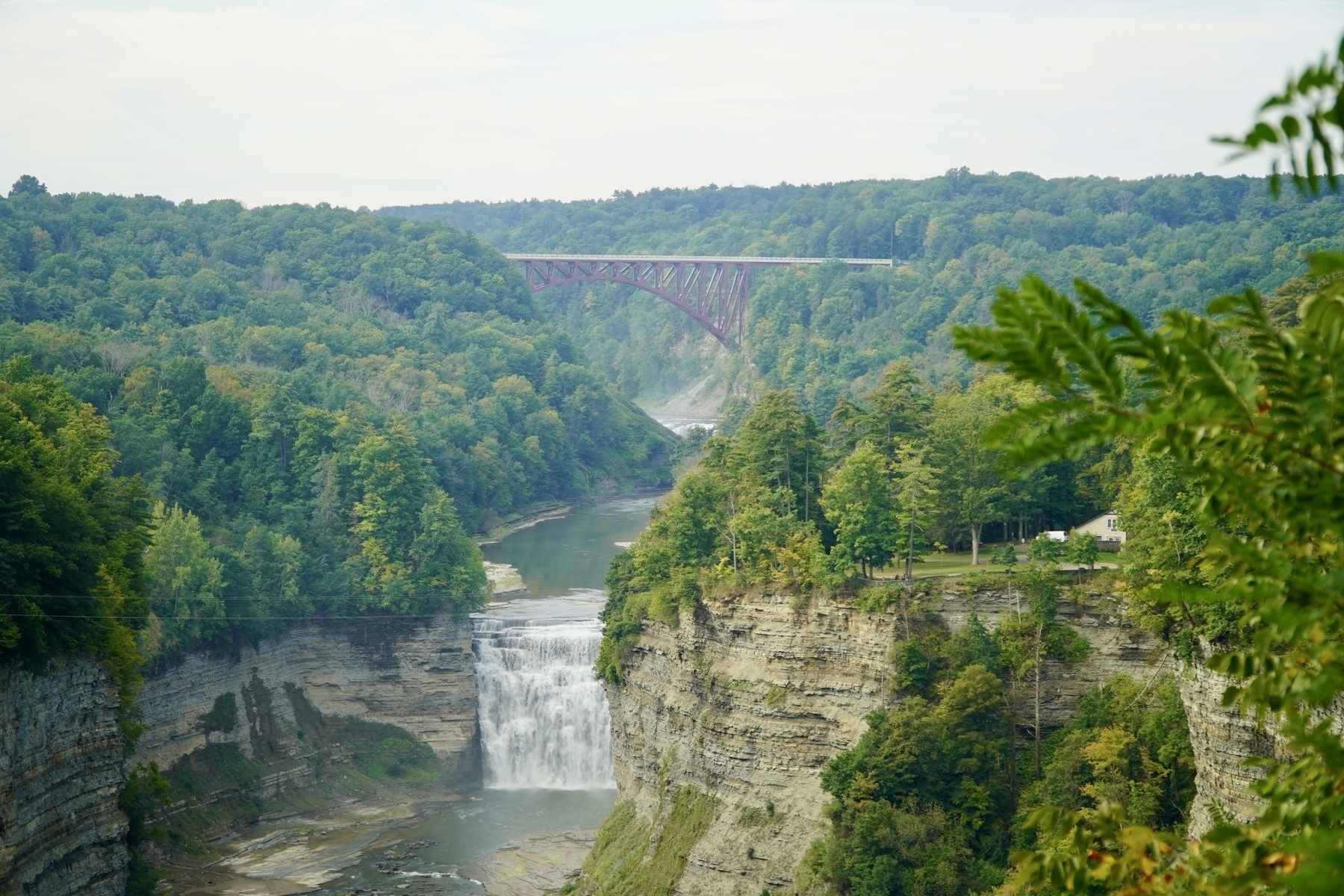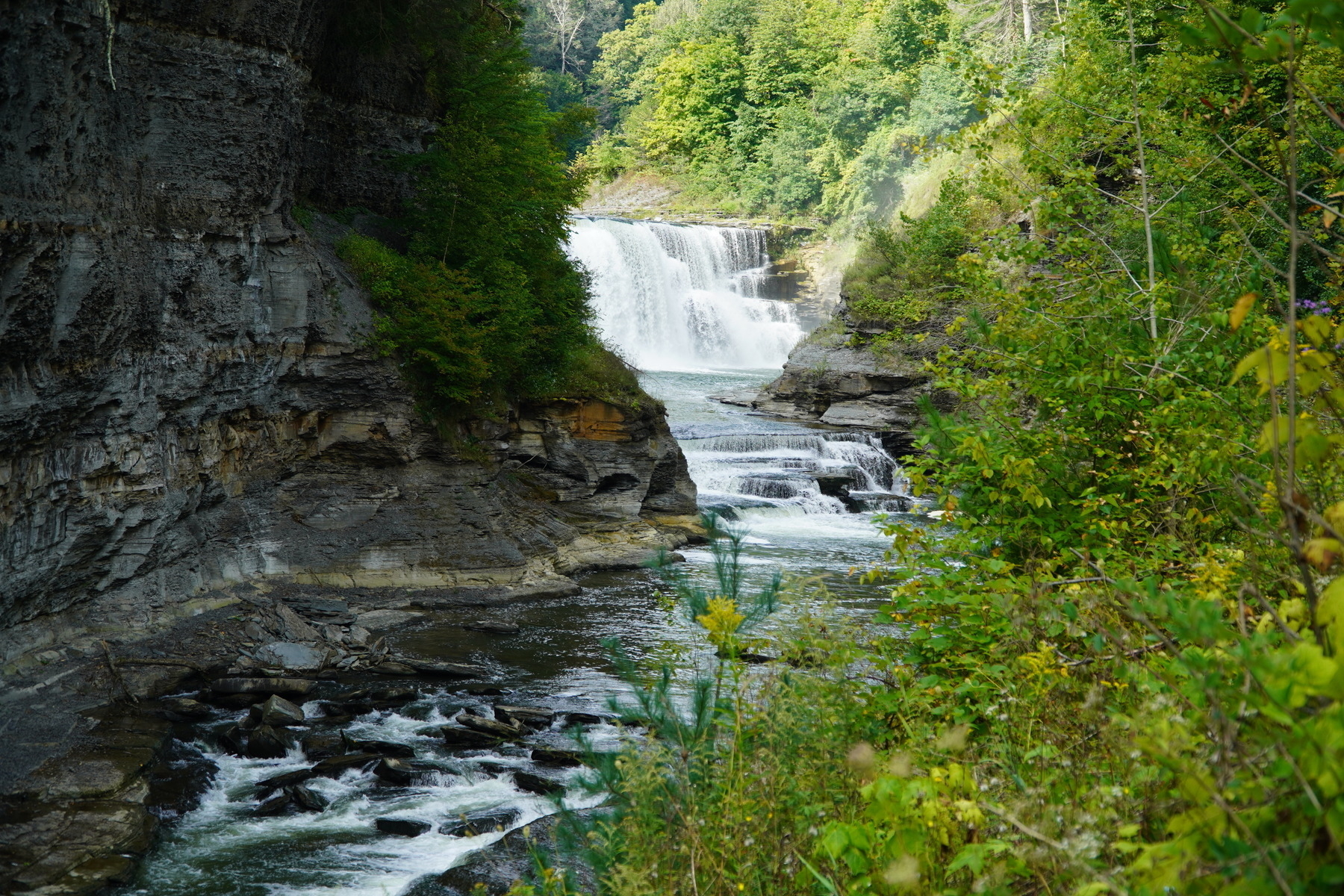 It was a great morning for a hike. There was almost nobody else on the trail. We did meet a couple from Ohio who had just come from Watkins Glen, so they had good advice for us on how to do the gorge hike.
After showers and some tacos for lunch we packed up camp and headed for Watkins Glen. It was just a two hour drive, and on much better roads than the route we took to Letchworth!!
The campground sits high above the village of Watkins Glen, and the gorge hike starts way down low. So we descended and then started the long trek back upwards. But it was spectacular.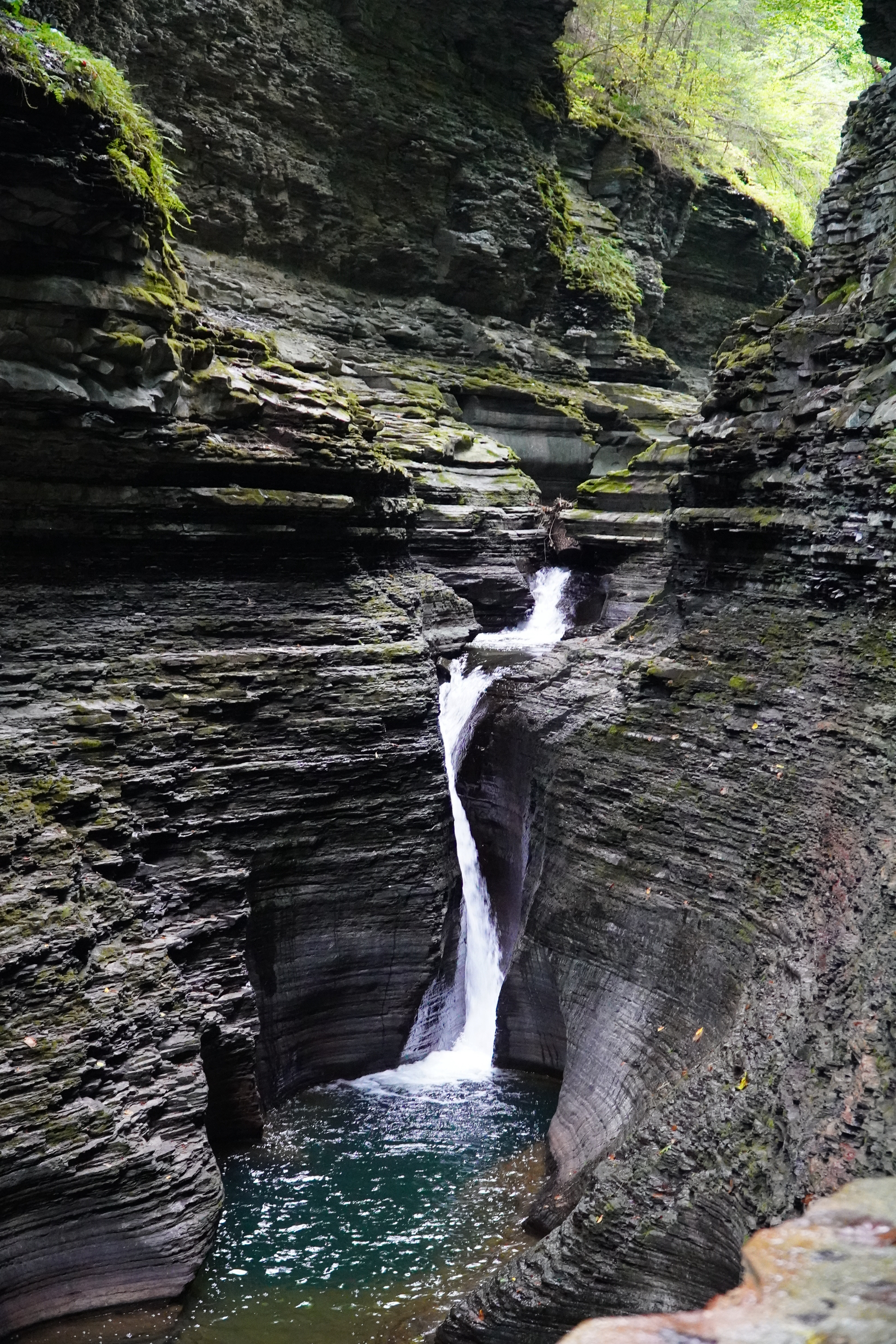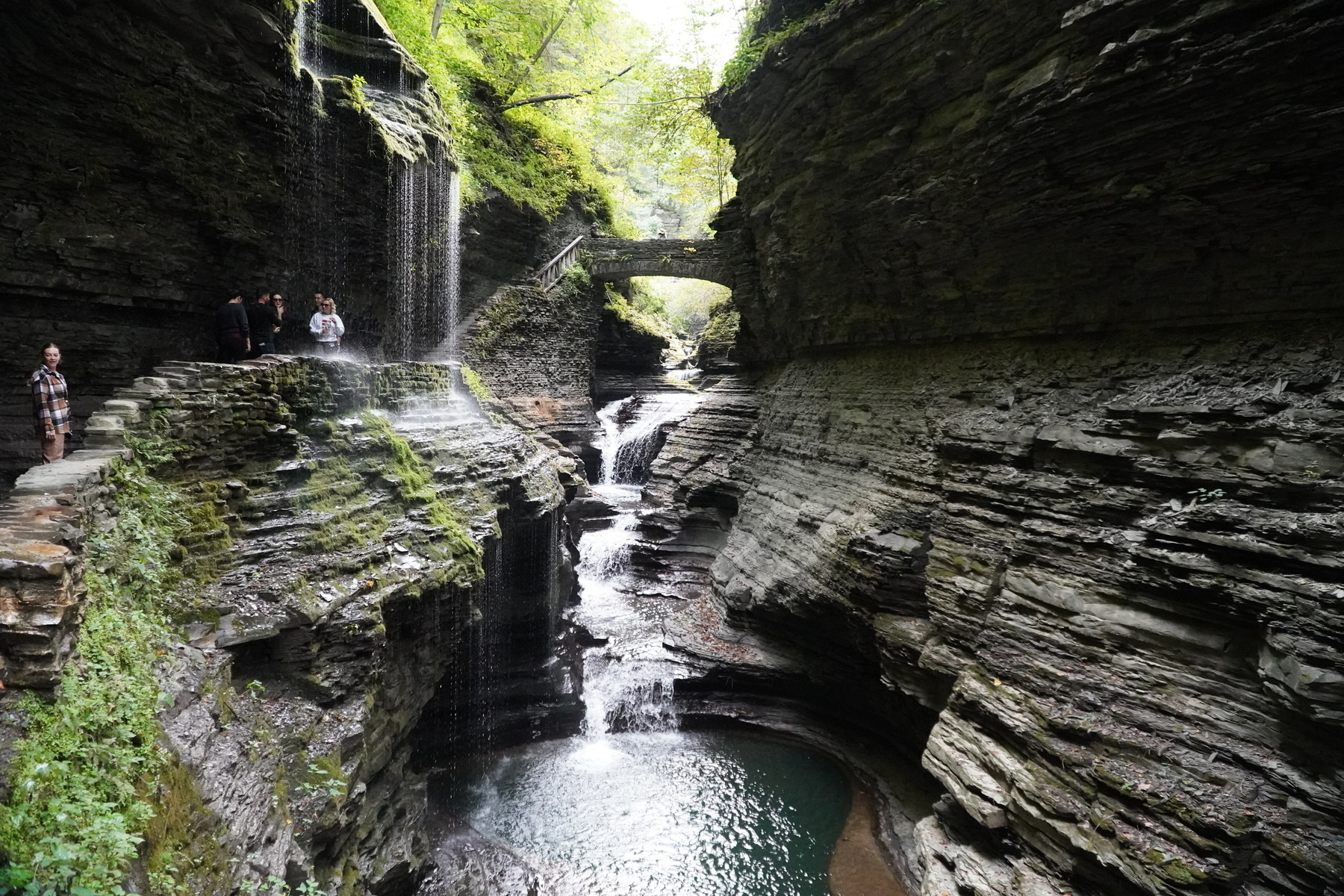 After all of that hiking and climbing we were definitely hungry and sleepy campers. We hooked up our fire pit, and sat around the fire with some warmed up pasta and wine and just relaxed. By bedtime a light rain had started so we had that sound to put us to sleep for the night.