Food Fun in NOLA
We arrived in New Orleans on Sunday, not the best day to visit restaurants, but we were able to make it work for us.
Sunday Night Galatoires on Bourbon Street
Monday Midday food tour of the French Quarter
Tuesday Night Commanders Palace in the Garden District
That is quite a lineup! Both Galatoires and Commanders Palace required coats for men, so I had to bring a sport coat all the way down the river just for these two nights. It was definitely worth it. Also, New Orleans requires proof of vaccination to even enter a restaurant or bar! Good for them
We started with a pre-dinner drink at the Absinthe Bar, where we happened to sit next to two women from LaCrosse Wisconsin! I had never had an Absinthe drink before, but it was a real treat. If you don't know, Absinthe tastes a lot like black licorice.
Galatoires is an old school restaurant, white and black tile on the floor, mirrors on the walls, servers dressed in black suits. Very nice. We started with a potato souffle, which was very thin slices of potato that were somehow fried and puffed in the middle, served with a nice aioli. We were advised to eat them quickly, before they deflated and we had no trouble following that advice. We followed that up with a bowl of gumbo that was spicy and brown and very delicious with chunks of shrimp and sausage.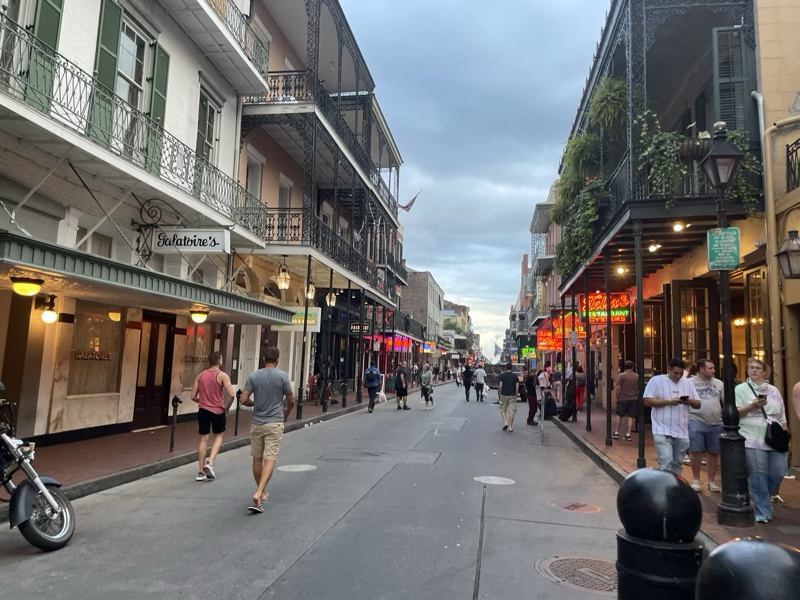 For our main course I had been waiting to try some New Orleans Shrimp Etouffee, which did not disappoint. Everything starts with the Roux and I'm on a new mission to make a nice dark brown Roux. Jane had a combo meal of a very rich crab dish Crab Ravigote - think crab dip - and Shrimp au Vin. It was so good but we brought most of the crab dish home with us. (something to top our steaks with tonight!)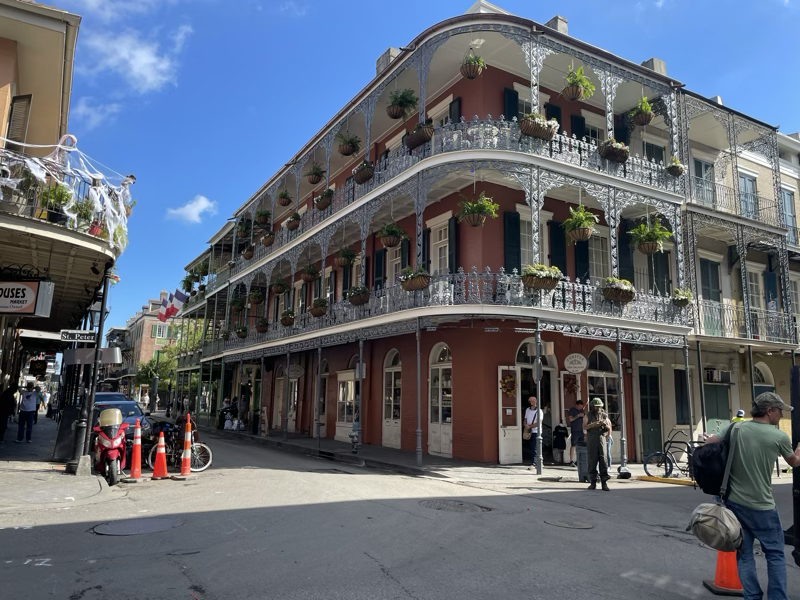 Monday we had a fun food tour, it was a nice small tour group. The other six all knew each other and were from Washington state. They had just finished a seven day river cruise from Memphis to New Orleans. I'm not sure why you would do a food tour of New Orleans if you didn't want to try shrimp gumbo but whatever. They enjoyed their red beans and rice instead. On the tour we tasted the following:
seafood sausages - shrimp, crawfish, cheese and rice in a casing. The inside tasted great, but the casings were kind of distracting as they didn't want to break so the sausage just kind of squirted out.
Shrimp Gumbo — did you know that the word Gumbo originated in Africa and is the word for Ochre?
Jambalaya
Fried Alligator bites with Muffaletta Sandwich
Wood Fired Oysters with parmesan and butter! This is the way to have Oysters!
Pralines for desert!
Our guide, Jack, was very knowledgeable and did a great job of mixing in the history of the French Quarter with food talk.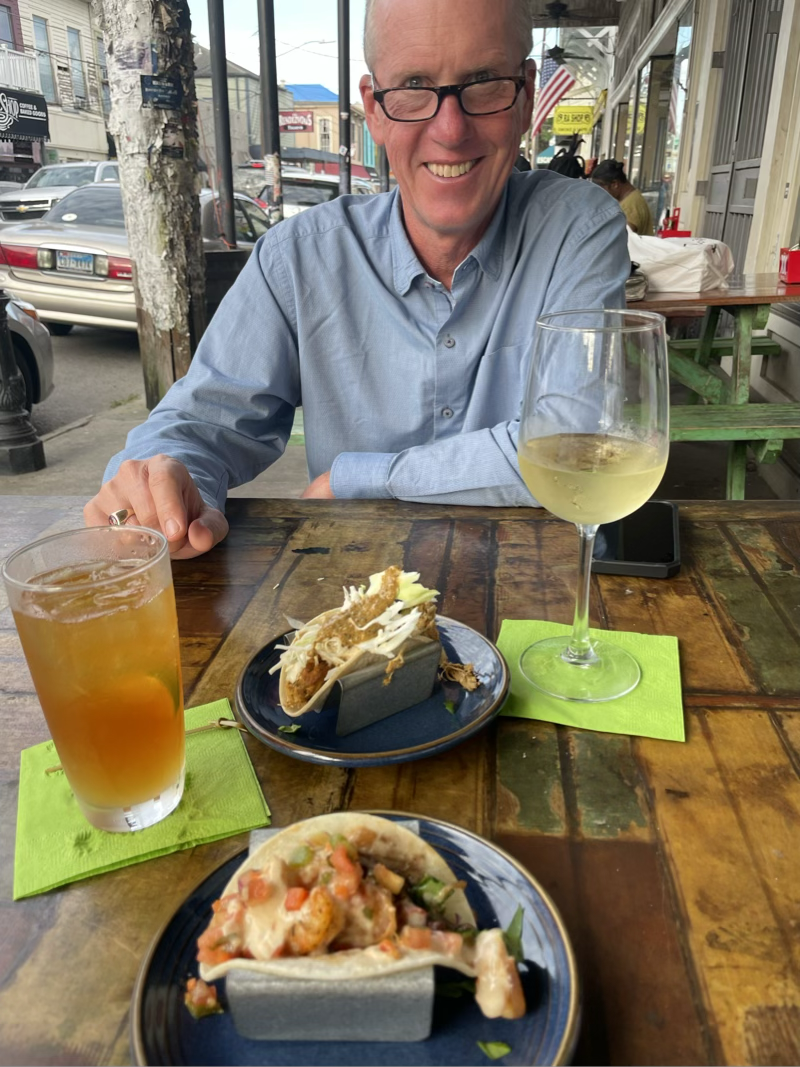 Tuesday evening, we had dinner at Commanders Palace — a fitting meal to celebrate the end of the ride! We headed into the Garden District with plenty of time to check out the architecture as well as a few of the bars. We actually ended up having a little taco appetizer at The Rum House. Commanders palace is one of the oldest restaurants in the country and has had many famous chefs including Paul Prudhomme and Emeril LeGasse. The food was delicious once again. We had to have more Gumbo but for my Entree I had to go for the pork chop served over polenta. Jane had the pecan crusted fish — a Paul Prudhomme creation. For desert we even had to try the bread pudding which was quite delicious.