Halfway there? Or am I finished? A battle of will!
Today started out promising. Like any morning in the camper I made myself some coffee. Unlike most mornings the cell service at Pere Marquette was so bad that the best my devices could muster was a few received emails overnight. Despite Two bars of service digital was just out of the question. Obviously this cell is not designed to handle the volume of traffic at the park. Anything real time was out of the question.
I did pull up the weather and managed to get a frame of radar. Not good! We turned on the TV since we got good TV reception and the weatherman summed it up. Rain this morning, then 30 mph winds for the afternoon with severe weather to follow after noon and late this afternoon. Ugh! So we walked up to the lodge where they had super-fast wifi and confirmed all of this. Yep, lots of rain on the way, then what looked like a break, maybe followed by more rain.
OK, so I'll work this morning and leave after the rain hopefully finishing before the afternoon showers hit! Great idea. Around 11:00 we saw the sun, so I helped Jane get the camper hooked up, then got my stuff ready and headed out on my bike. The trail, which I had been looking forward to, was a mess! Mud puddles, Mud, downed tree branches, etc. My legs were caked with mud before I had gone 6 miles. The wind out of the SSE was quickly becoming a pain.
When I saw Jane go by on the highway I thought "maybe she'll stop and I'll be done for the day." No such luck, OK, I am going to do this I told myself. It seems that cross country biking is a battle of will! Then I got on the highway where the bike lane was nicer, but the wind was fierce. I continued on for another 15 miles, not making great progress, until I noticed I was no longer on the route. Somewhere the bike path had gone to the right but I had continued following the highway. But just ahead was a turnout where I could get back on the path. I'm not sure I should have as the path was on top of the levee, well above the highway! At times I was riding at a 20 degree angle into the side wind! But I don't think my day was as challenging as this barge driver! He was trying to get the barges into the lock but clearly heading for the shore due to the high winds!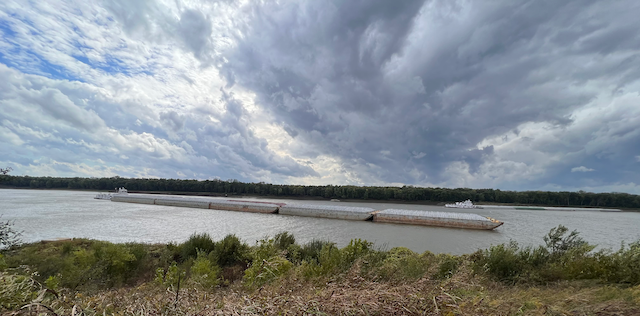 I seemed to continue along the top of the levee in the wind forever. At the Lewis and Clark memorial I contemplated calling Jane again, but I kept on going. About two miles after the memorial I really regretted my decision as the bike path inexplicably turned to gravel, nice rain softened gravel! That continued for at least two or three miles until I got to the bridge to cross the Mississippi back into Missouri. Getting off the levee and back onto the road was hard as the path was chained shut. I felt very isolated and alone, and it looked like nobody had biked this path for years. Tires, old furniture, all kinds of crap had been thrown off the bridge I was to cross… Yuk!
A few miles later I crossed the beautiful "Chain of Rocks" bridge. Definitely a sight to behold, but by the time I got to the end of the bridge it was pouring. Thankfully there was a covered rest area at the end of the bridge. This time I did call Jane. But she was on her bike headed out to meet me! She is amazing, she was headed out to meet me so I could draft off her on her ebike for the final 10 miles. "I'm almost to the chain of rocks bridge" she said. "OK, its letting up, I'll meet you" I replied. But I kept riding and riding and no sign of her! So I brought here up on "Find my Friends" Ok I'm getting close but she doesn't seem to be moving! At that point I got a little nervous, but as I got to the point where here icon was on find my and my blue dot showed me, I could see she was standing. Waiting for me? Nope she had ridden through a pile of glass and had a flat tire! Also no spare tube or tire changing tools. How could I let her ride without a spare!!??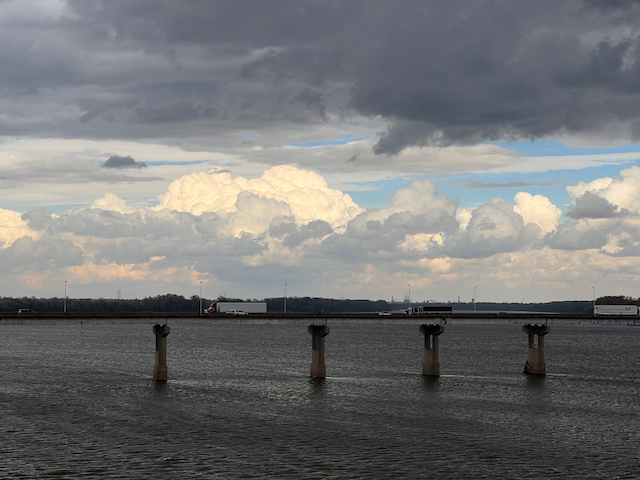 Maybe an Uber was the solution, but I didn't like the idea of her waiting around for me to get back to her, or her riding in an Uber and me just hanging out for an hour for her to come back. So I tried the first step. Just pump up the tire again. No go! Ok, my tubes are not made for her tires, but they will definitely work in a pinch. So I took off her tire and replaced the tube with my spare. We vowed to carry our bikes over the area with the glass. That was enough to get us back to the RV park at the King Power / Queens casino RV park in St. Louis.
Back in the camper, my back is sore from fighting the wind all day and my attitude is marginal at best. I can't decide if I want to say I made it halfway down the Mississippi or if I want to continue.
Parts of this ride are great and beautiful, and parts of the trip are just gross.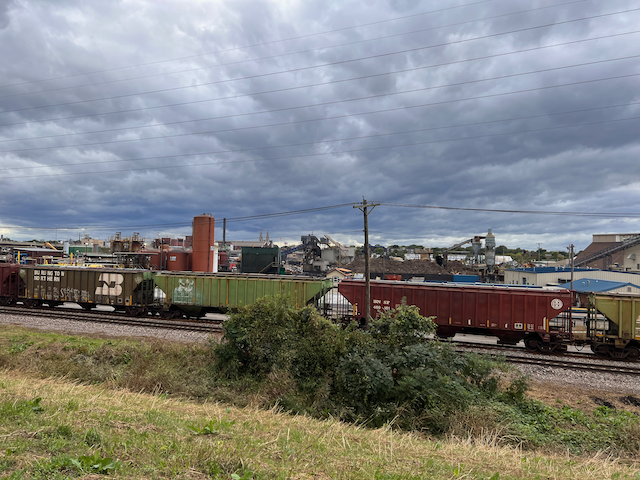 We will see what tomorrow brings but my bet is on me continuing despite past challenges, and future worries. This feels to me like one of those junior high english class "man against nature" challenges, and in the moment that is exactly what it is! What me give up?! Never! On the other hand I only did this because I thought it would be fun. Today was not fun, today was a whole lotta work. I beat the wind and rain and the elements, but at the end of the day I'm tired and my back hurts, and the Alleve isn't working, and I'm no fun for Jane to hang out with. So we will see what tomorrow brings!
Stay tuned!