Three Days in Chelan
Well, I think it is time to head East. When we started making our egg scramble for breakfast this morning the sausage had mold on it, and so did one of our bags of shredded cheese! Its nothing that a stop at a grocery store won't fix, but we are both ready anyway. We've been on the road with the camper for 20 days, and it has been quite a trip.
The last few days have been really wonderful. We got to park the camper at Lake Chelan State Park and hang out with our friends Jim and Karen for three days! Jim and Karen are experts on the Chelan and Leavenworth areas having both lived in the area before, so they had lots of great outings planned for us.
Day One, we met at the Wal-mart parking lot to leave the camper until check-in time and headed out for a wine tasting and lunch! We found a great location at Benson's who also served a great local wood fired pizza. Check out this amazing view of Lake Chelan from our lunch stop!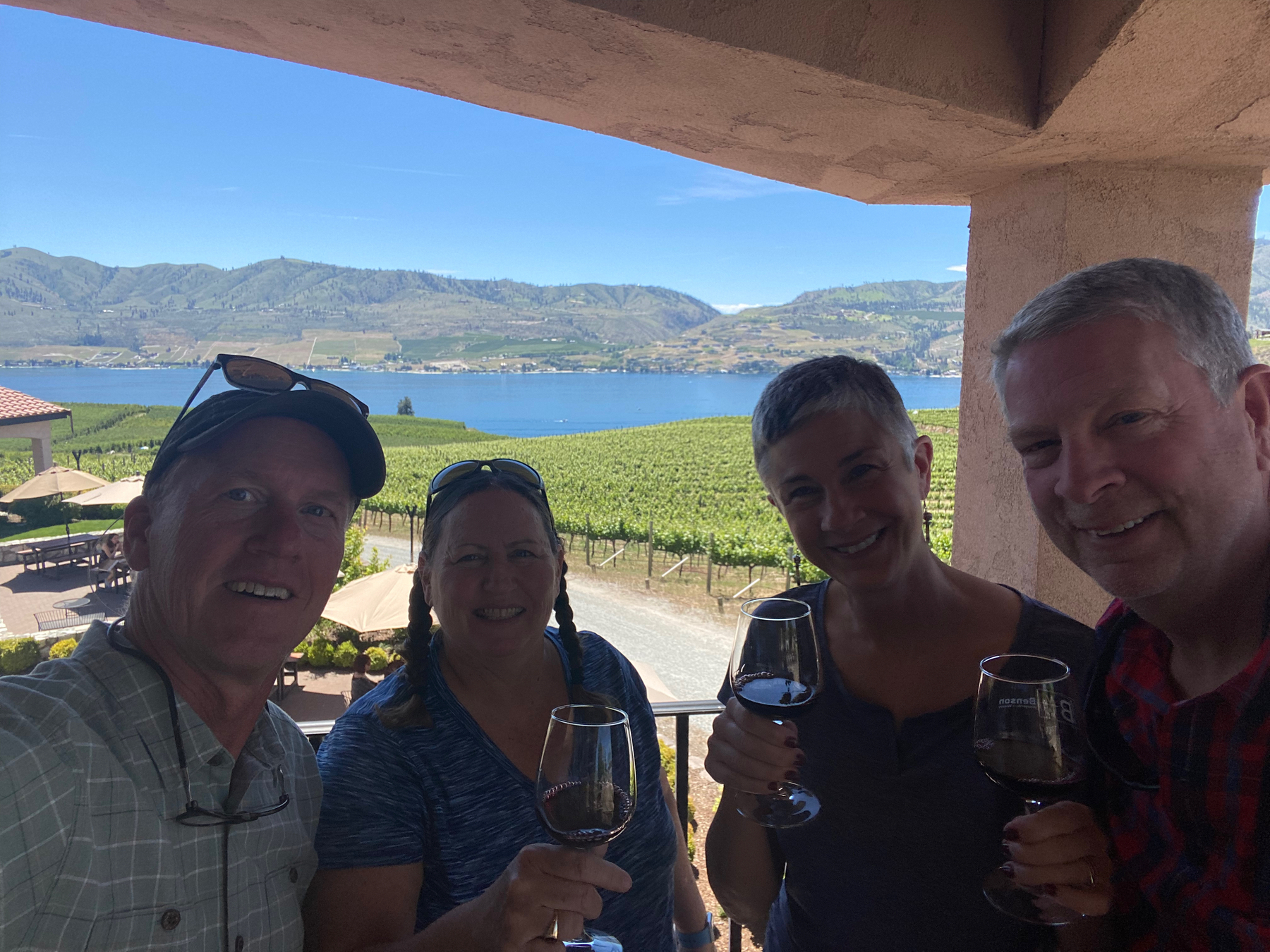 That pretty much captures the area in a nutshell. Everywhere you go you are treated to amazing views of the lake. By the time we finished lunch and our tasting it was late enough to move the camper to the campground.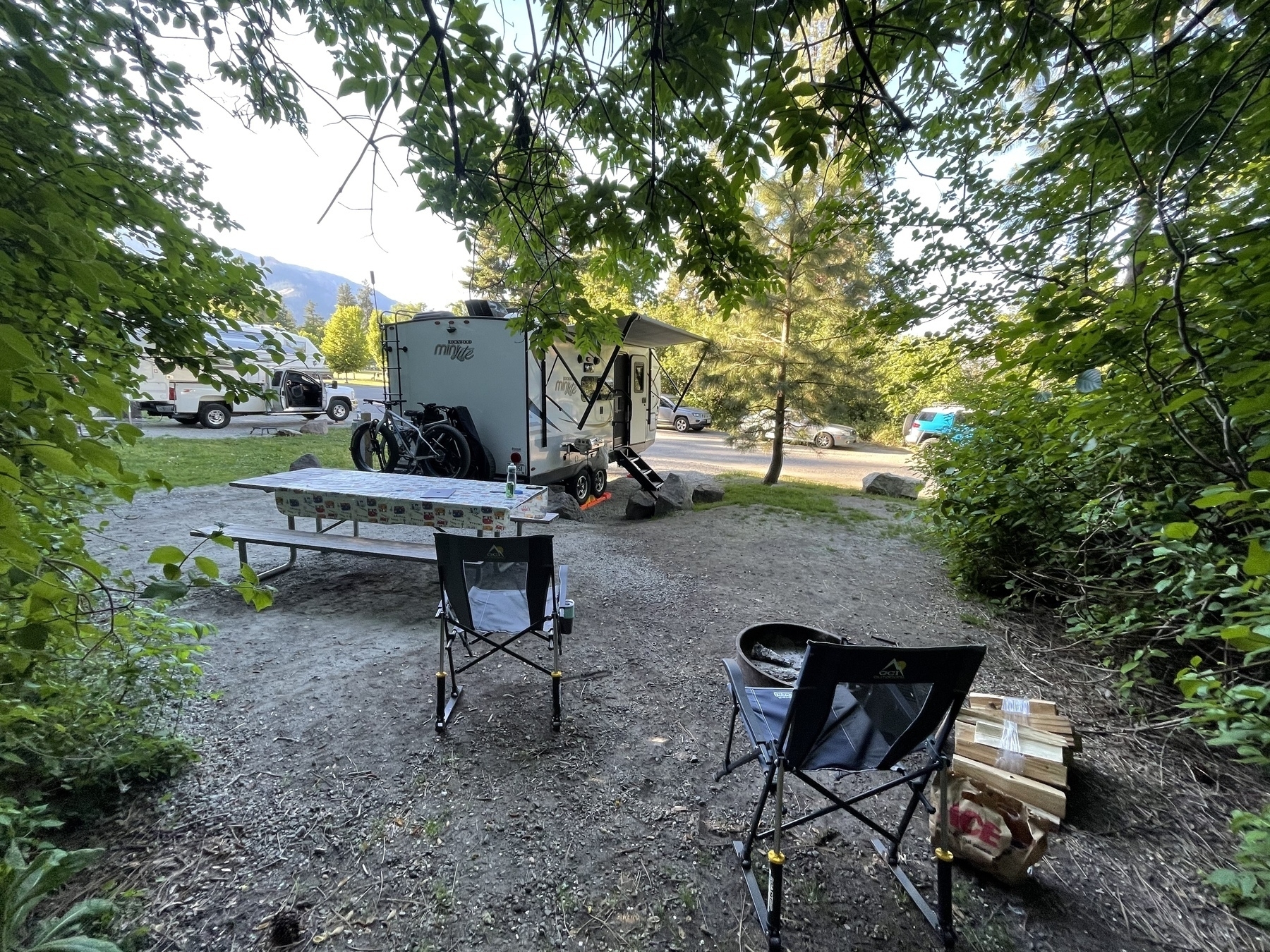 With the camper situated, we were able to explore the south side of the lake and see the Holden guest house that Jim helped build many years ago. We had another pre-dinner wine tasting at the Tsillan (pronounced Chelan) winery. The weather was HOT 95+ degrees. The wine was also really good. I'm bringing home bottles of Rosé and Pinot Grigio. Dinner was in downtown Chelan at Campbells, followed by a campfire back at our site. There were two big RV's next door to us, each with a gaggle of kids and their bikes. The kids were riding their bikes back and forth, no hands, getting as close as they could to Jim and Karen's car parked in front of our camper! This was making both Jim and Karen very nervous, and they were ready to make the drive back to their place anyway, so they left. Meanwhile the biking and the squeaky bike brakes continued long after dark! We laughed that we are edging ever closer to those old people that yell "get off my lawn!"
Tuesday morning, Jim and I headed out for a ride up the lake. It was perfect weather and a great morning for a ride. My fat tire had to work hard to keep up with Jim's road bike.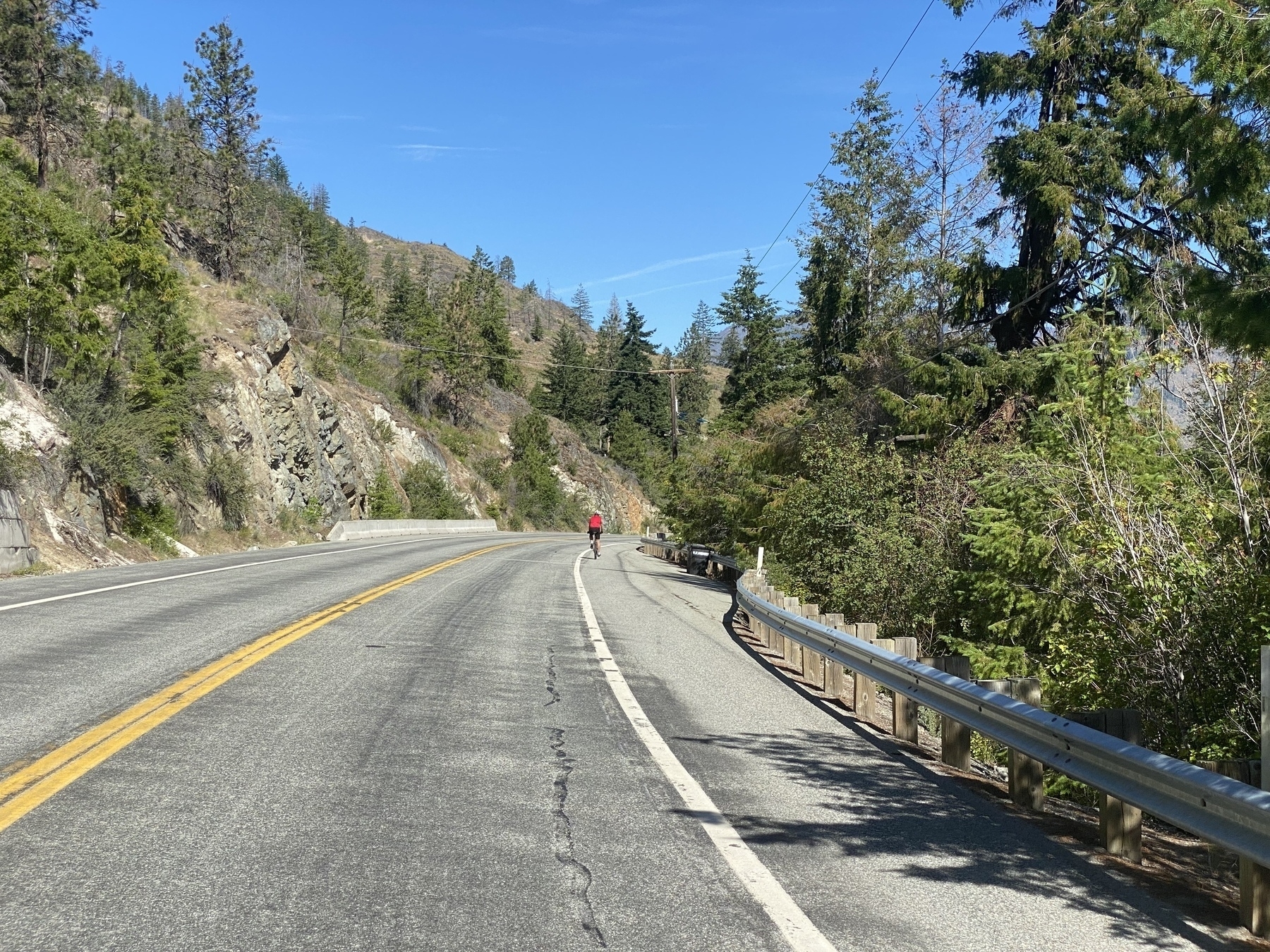 We had bratwurst for lunch at the campground, and then Jim and Karen took off to take care of some family things. We were also awaiting the arrival of Jane's aunt Joanne and uncle Dale. Her cousin David drove them up from Yakima to see us. This is Jane's last remaining aunt and uncle and we haven't seen them in years so it was great to see them and have a chance to chat.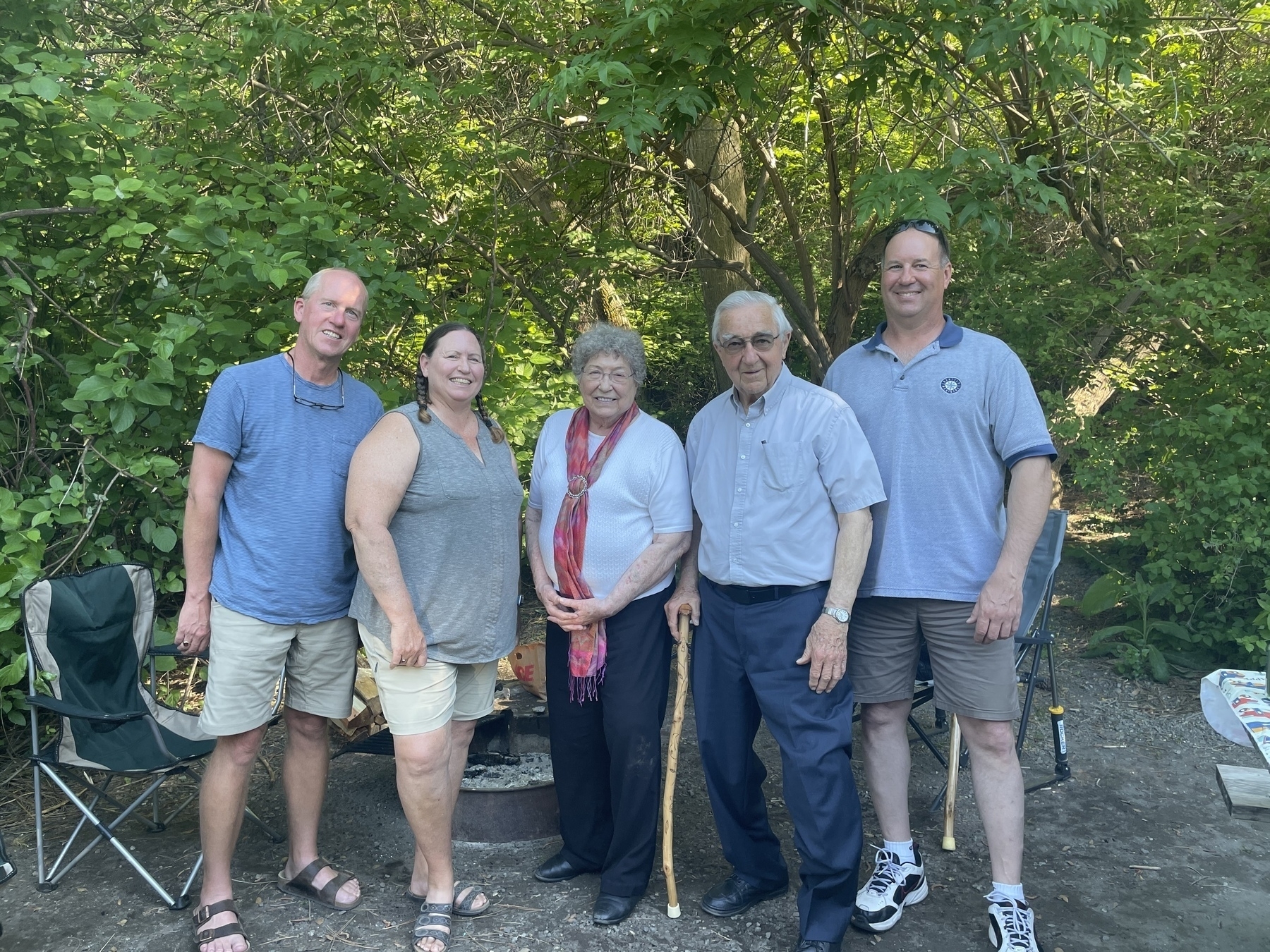 Wednesday, the plan was to head to Leavenworth, where Karen's parents and cousins live. Karen had a favorite hike for us to do, and Jane's cousin runs Visconti's restaurant there. Leavenworth has been remodeled to resemble a Bavarian mountain village and is a charming little town. We enjoyed a lunch at a local Mexican restaurant (Yes, I know, not very Bavarian, but we just had brats for lunch on Tuesday). We visited the local fair trade store that was owned by Karen's parents as well as the hat shop and toy shop owned by her uncle.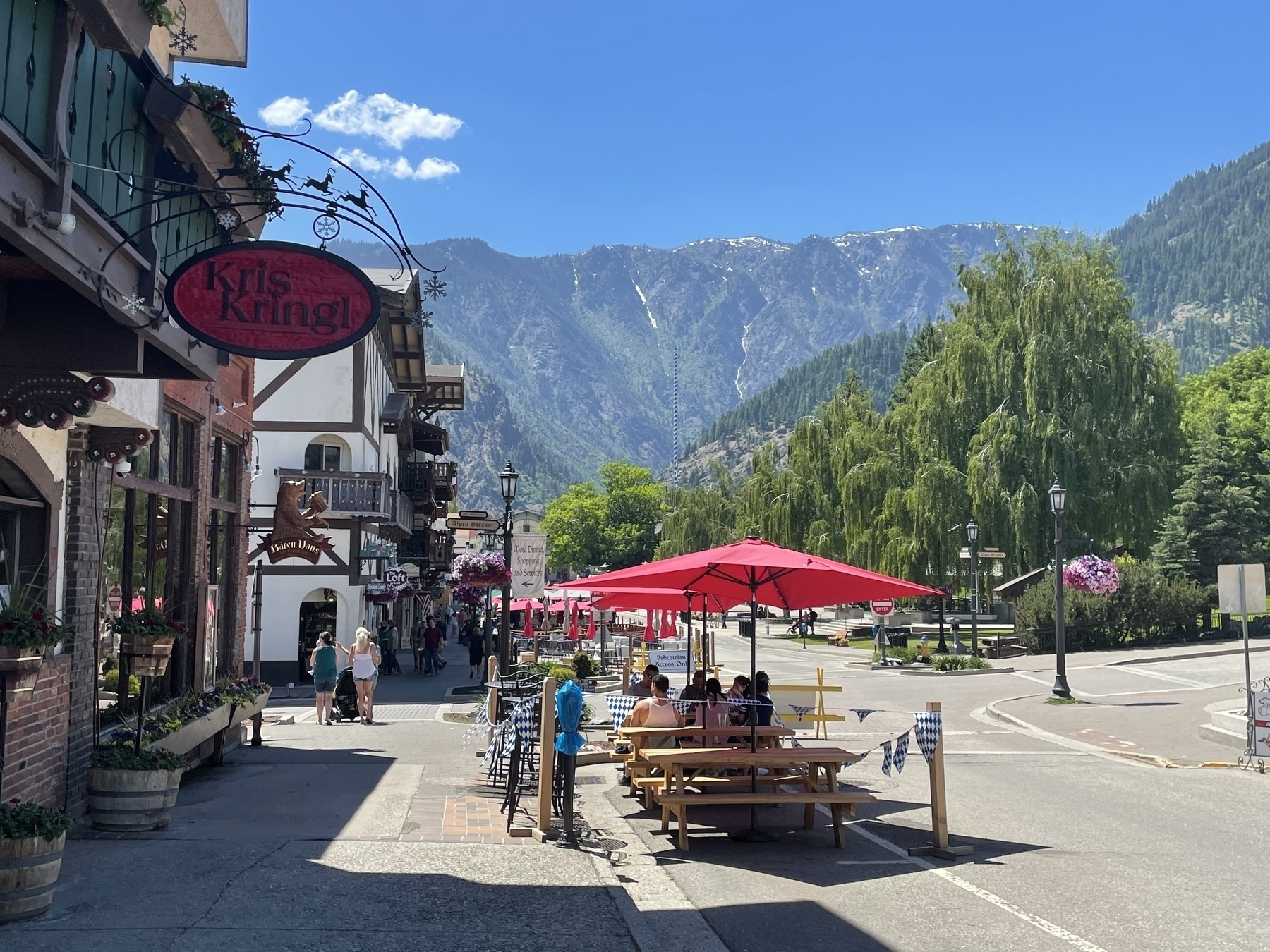 Downtown was really hot, so we headed up the mountain to take a hike along the Icicle river. The snow melt is fast and furious in the mountains so the rivers are really flowing.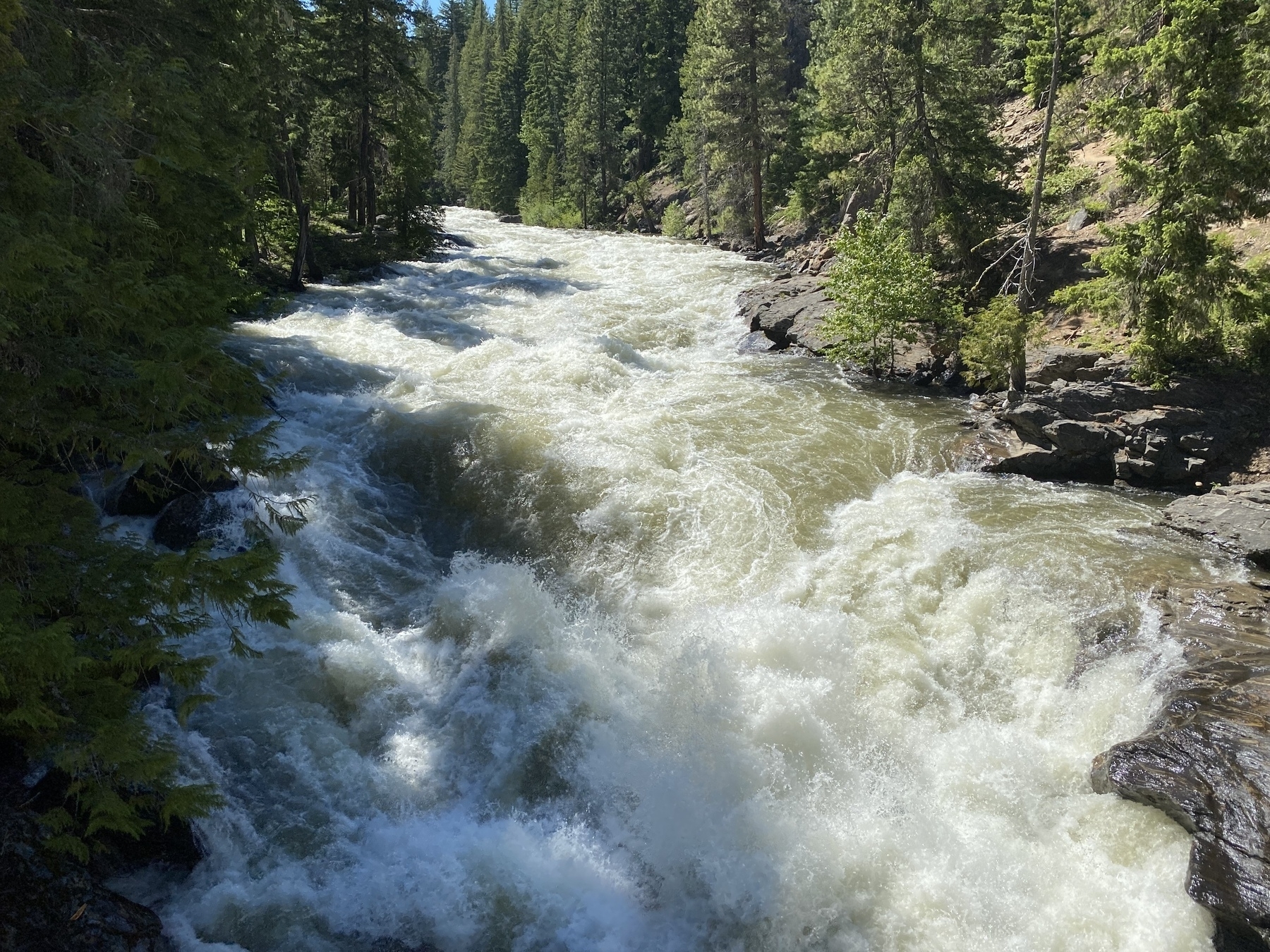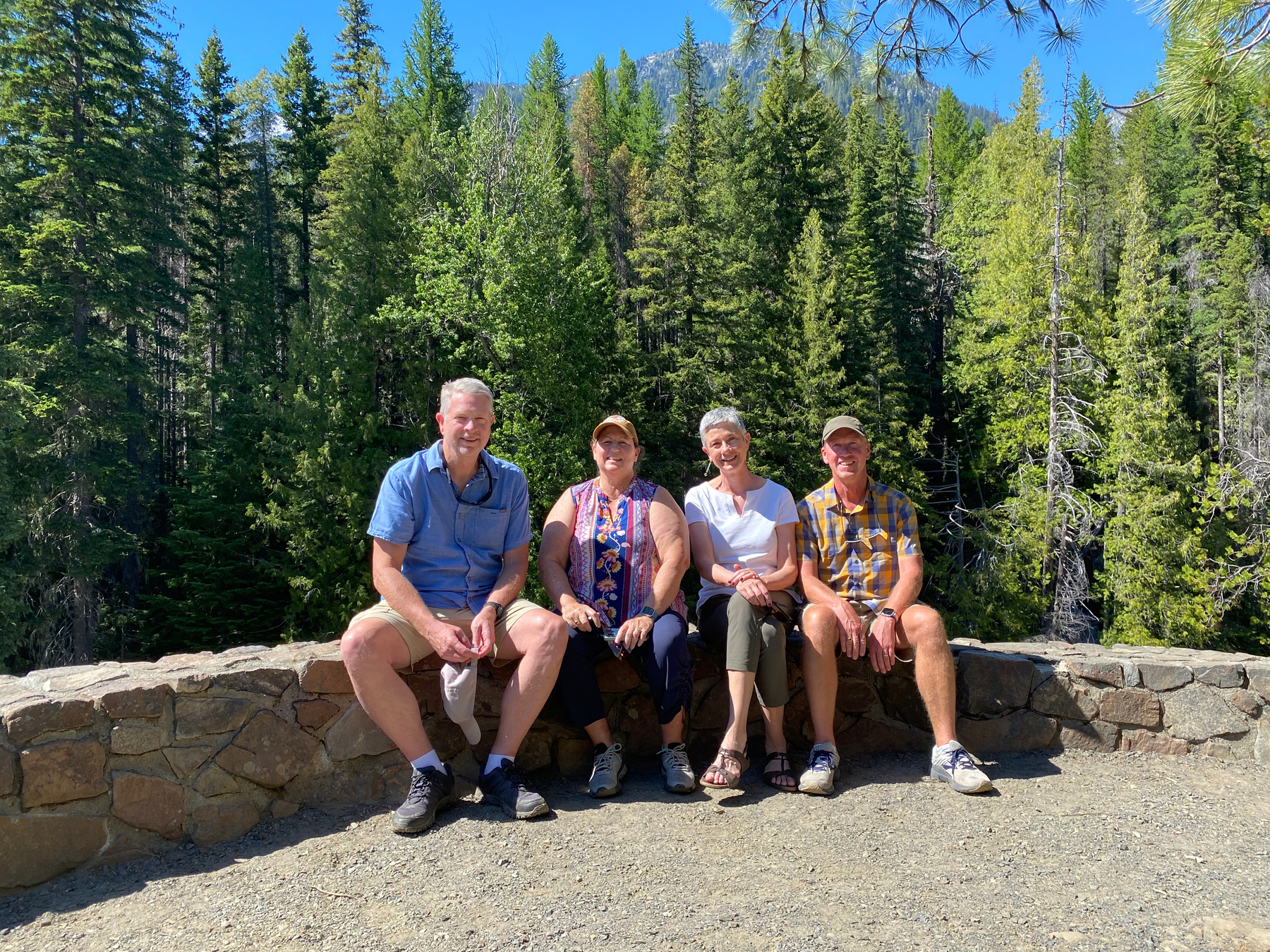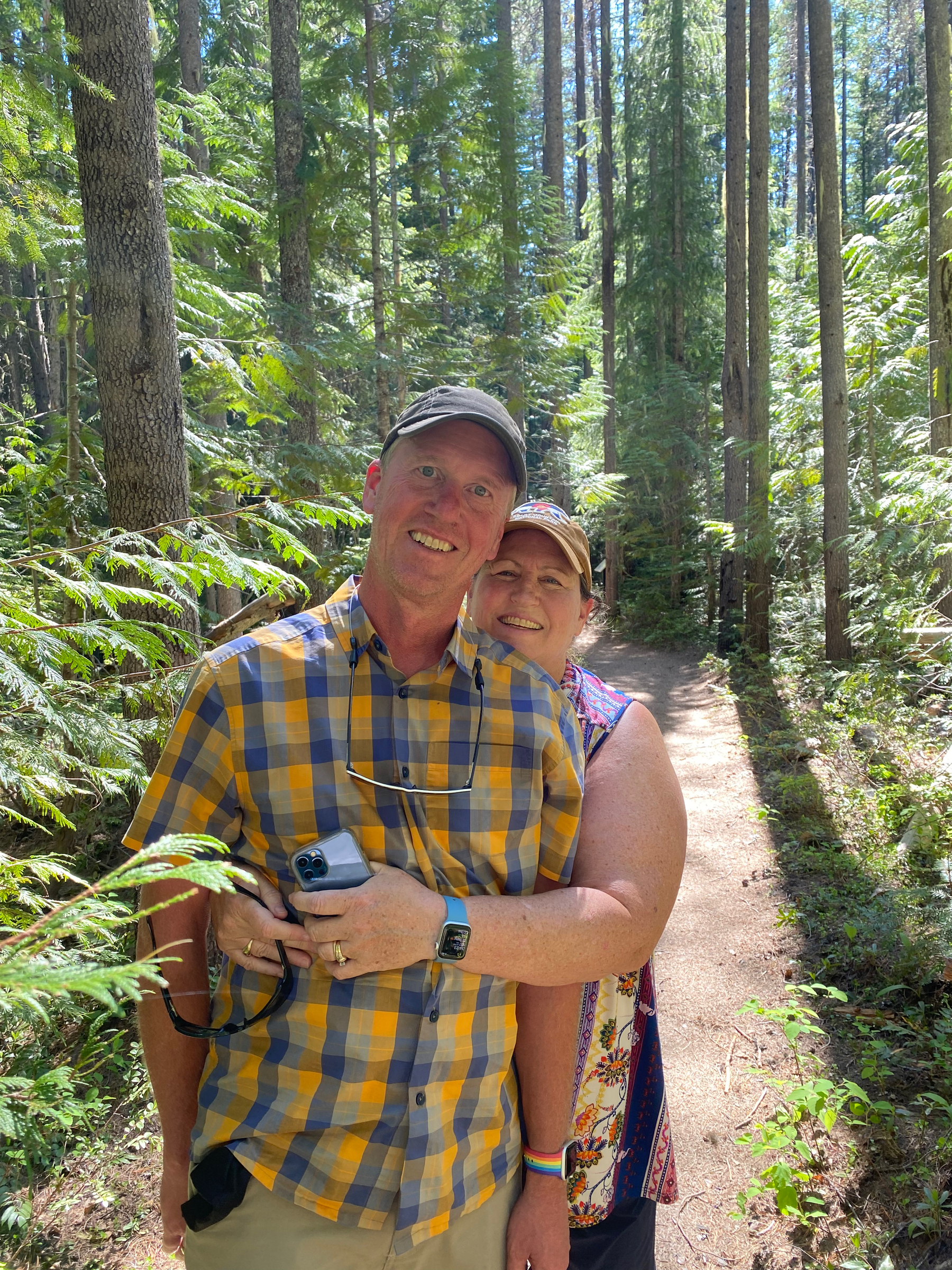 Although the water was very cold and the temperatures up on the mountain were much cooler we were still all pretty hot and tired after the hike. So we showed up for our reservation an hour early. No problem we enjoyed some more local wine and eventually ordered our meal.
Karen was going to spend a couple of days with her parents, helping out around the house, so we dropped her off before making the hour long trek back to the campground. By then we were tired so we just spent some time picking up the campsite and preparing for our morning departure.
The campsite was very tight, and in addition, there was a car parked right across from our site, making our exit very narrow. after getting the trailer hooked up Jane nearly had us out of the site except for the large rock blocking the corner of our site. I had tried to move it earlier in the morning in preparation for our exit but couldn't move it. Luckily there was a burly young man doing his dishes at the water faucet on the edge of our site who said "I can move that rock for you". together we rolled it over and we were able to get the camper out. Our next move was to wake up the tenters that owned the parked car and ask them to move it. Thankfully that was not needed.