Snowy Adventure
The North Cascades (America's Alps) is a beautiful stop on our journey. Not to mention the warmest temperatures (72 degrees) since Indio! It is also Memorial Day weekend, and the place is a zoo! Cars are everywhere, people are everywhere. Its almost as if friends and families have been freed from a pandemic and are now happily gathering together again after more than a year of quarantine and social distance.
Case in point, our camping neighbors, with double the allowable tents on their campsite, two dogs (Luna and Lance) and countless children. My guess from looking at all of them on the trail is that they are all young tech workers who have made the trek to the National Park to enjoy a holiday together. I really wanted to poll everyone who passed us on the trail "Computer Science degree?"
After arriving and getting the camper situated we decided to hike the Thunder Knob Trail. The info Jane had on the trail said it was 425 feet of elevation gain. The park brochure said 625 feet, but my feet and legs were claiming even more! We had about a quarter of the trek up left to go when a pair of young girls skipped past us and announced "You have a LONG way to go to get to the top!". Thanks for killing my spirit I muttered. It would not be a proper vacation without at least one hiking turning out to be way more challenging than you thought.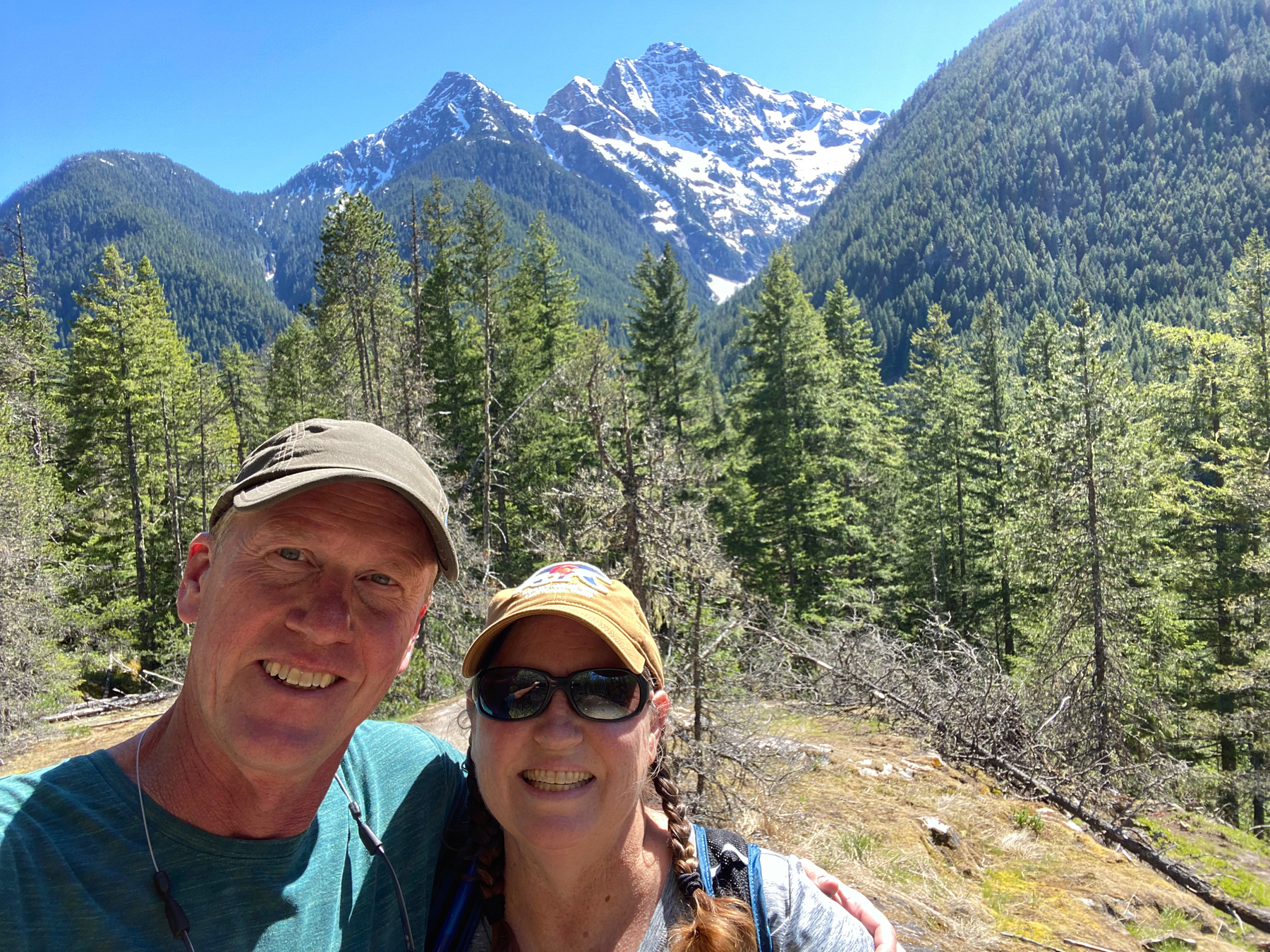 Nevertheless it was a spectacular view of Diablo Lake. The kind of place you could just sit and contemplate the beauty of nature, and remind yourself that there is a lot of good in our country.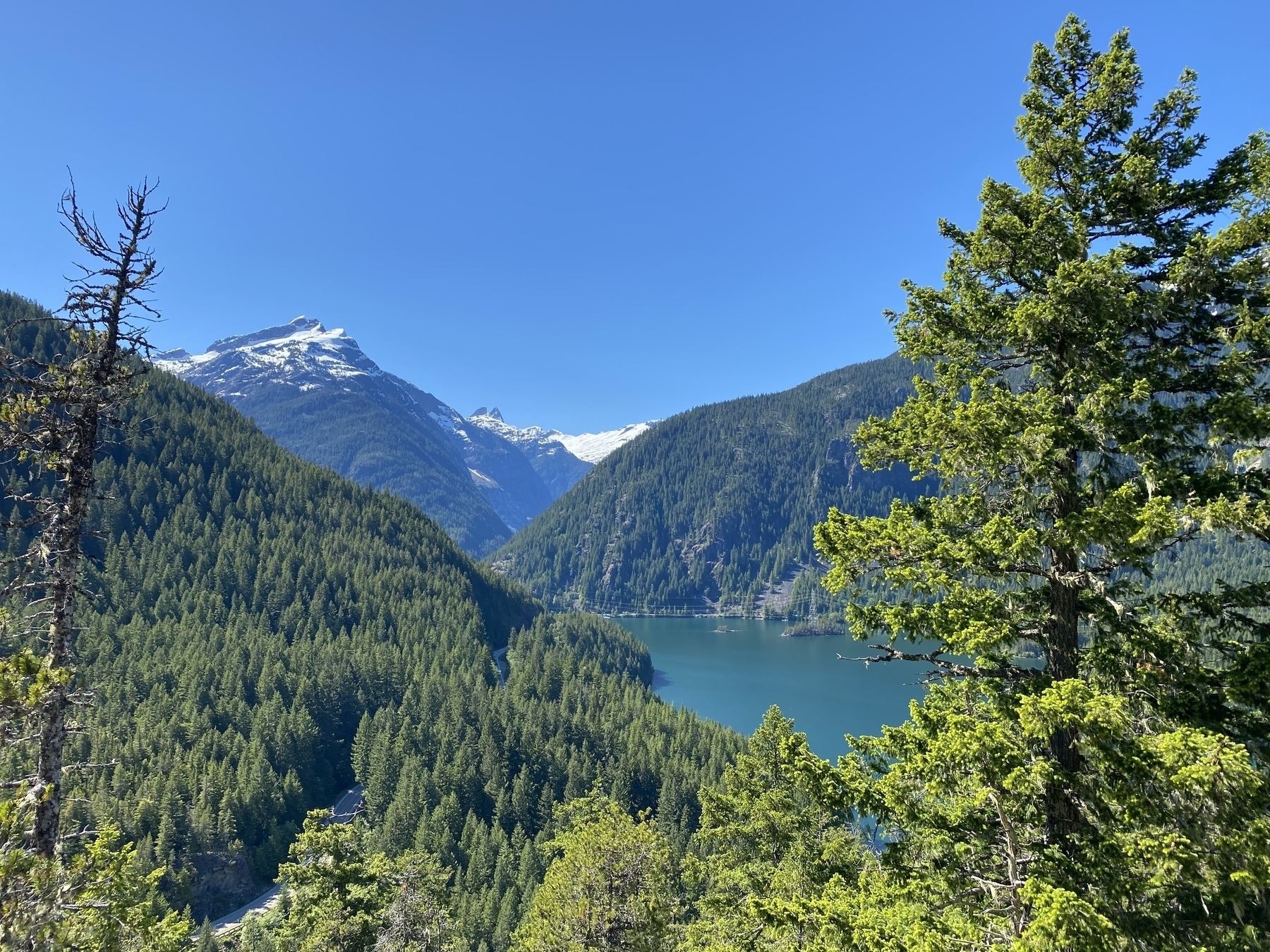 It was a perfect night for a campfire🔥 unfortunately we were lacking 🪵 🪵 The National Park prohibits gathering 🪵 as well as the sale of 🪵. We should have bought 🪵 in Marblemount from one of the friendly people on the side of the road! We made due with what our predecessors had left us in the fire ring and a little bit of kindling that was laying next to the 🔥 pit. The leftovers consisted of three large 🪵 that refused to really burn. Jane did her best to whittle down the 🪵 into smaller chunks but really only made more kindling. We managed to enjoy it all for a couple of hours anyway.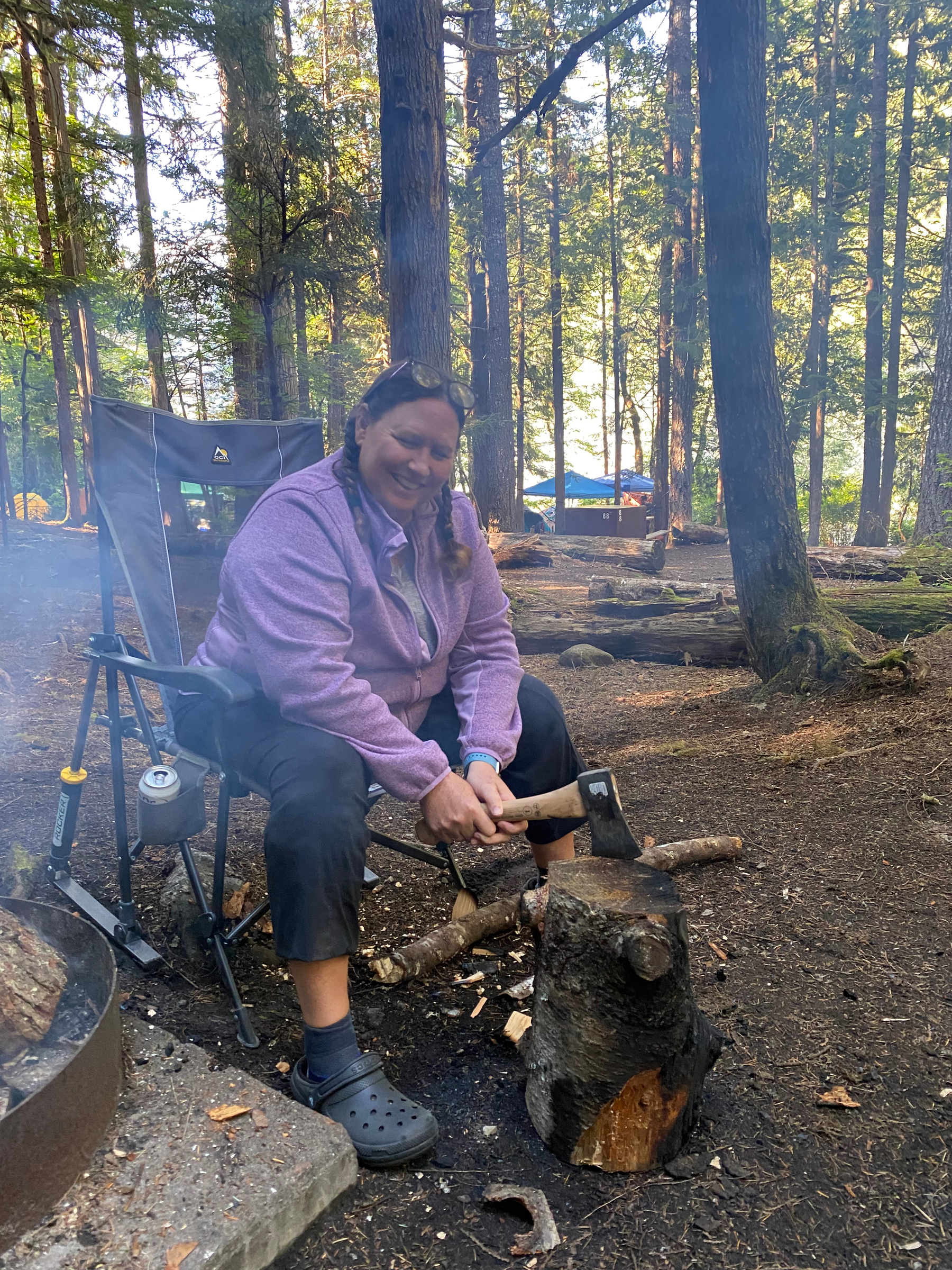 This morning we had many options! Jane had a very long list of hikes we could do. We decided to head for the furthest one called Blue Lake. Alas when we arrived at the trailhead the lot was still under many feet of snow. We hiked through the lot and attempted to find the trail itself, which did not look at all inviting.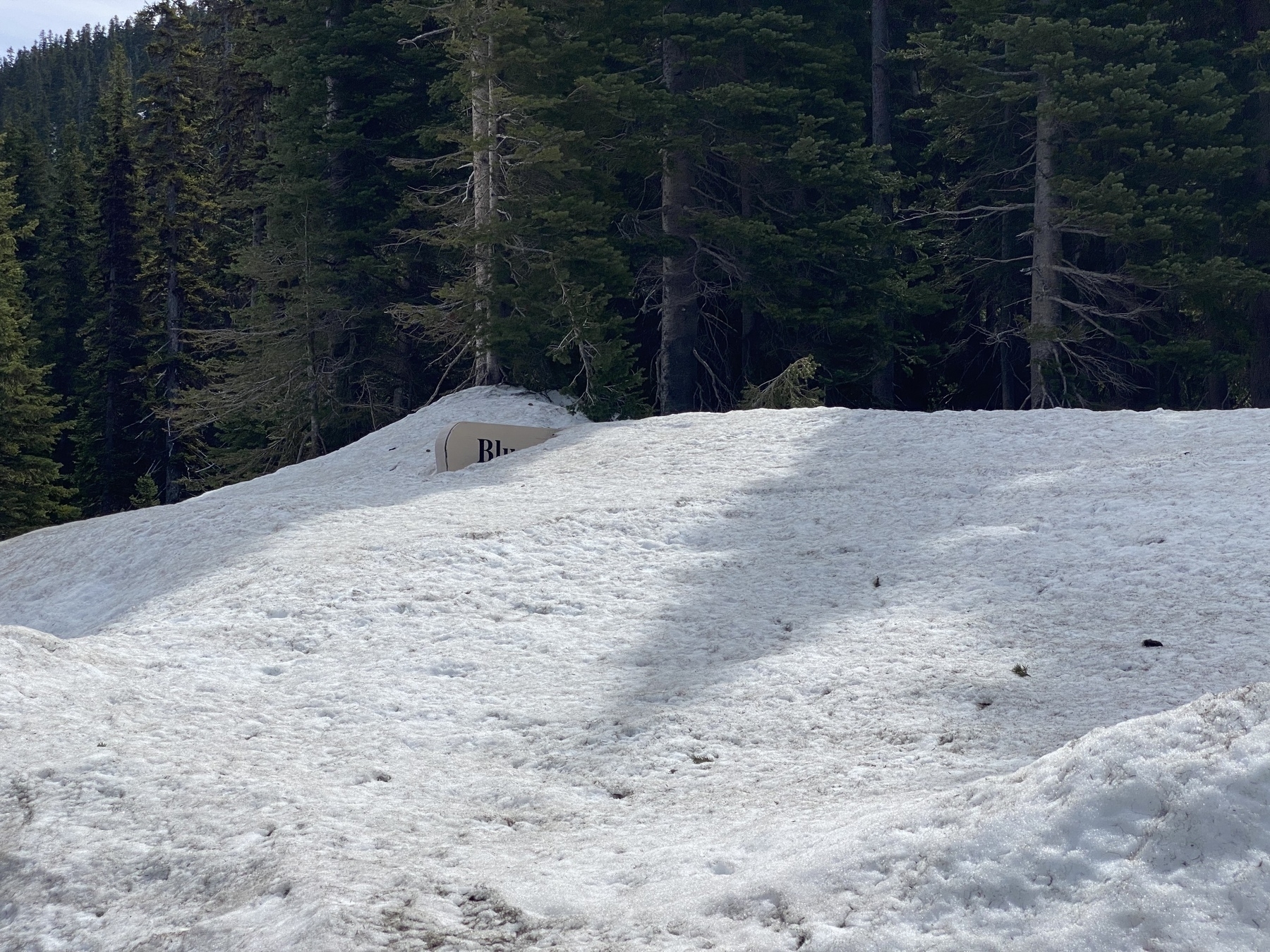 OK, for plan B we drove back toward camp thinking we would stop at Rainy Lake. It looked snowy as well, but the sheet we got from the ranger said that it was "A wheelchair-accessible paved trail to a mountain lake" How hard could it be? Our first clue should have been the couple and their dogs on skis! It turns out that when a wheelchair-accessible trail is under anywhere from 5 to 20 feet of snow it makes for a lot of ups and downs! Lots of slippery climbs and feet sinking six inches into the snow! In short, it was a snowy adventure (in shorts!) just trying to figure out where the trail was.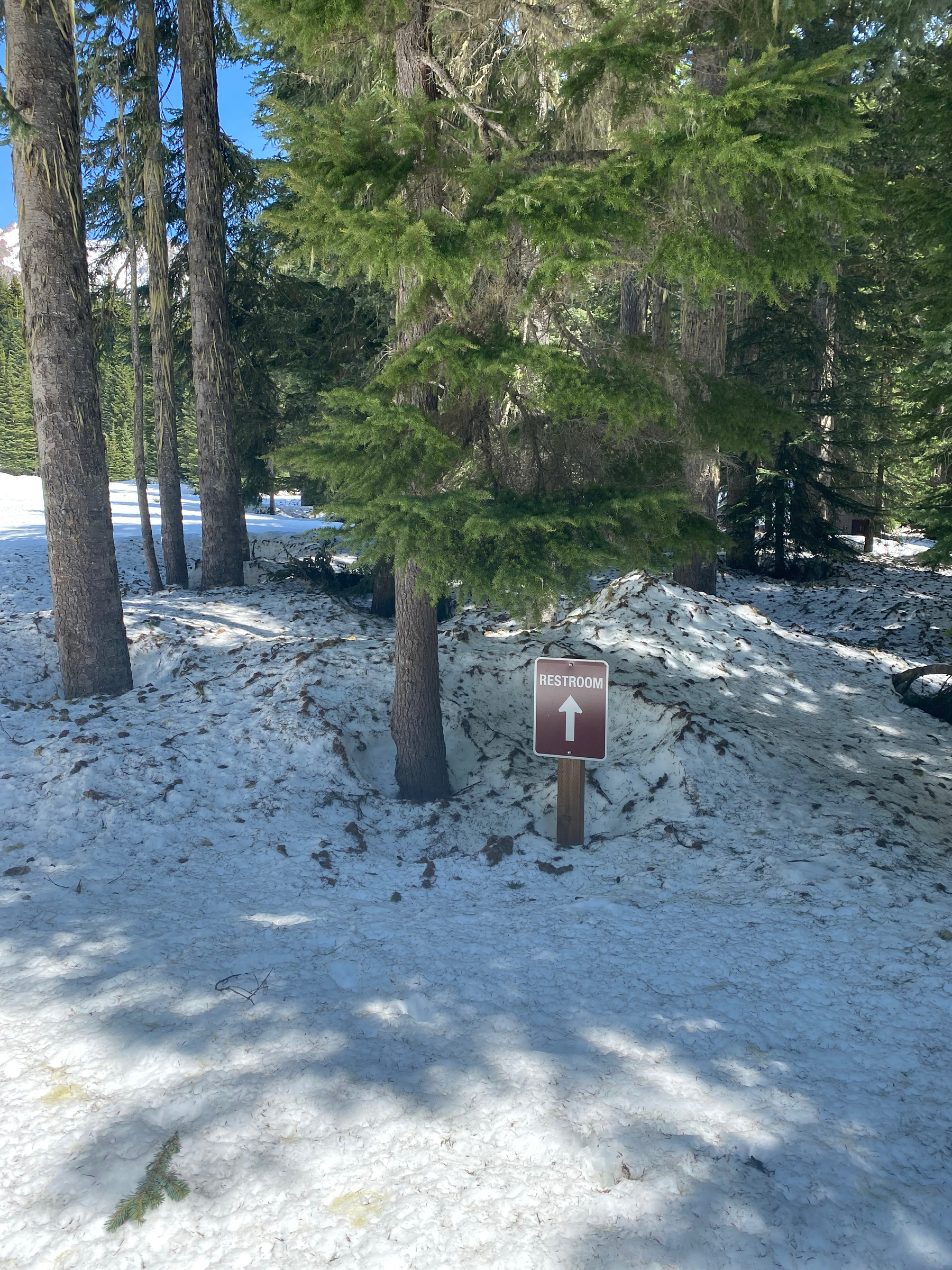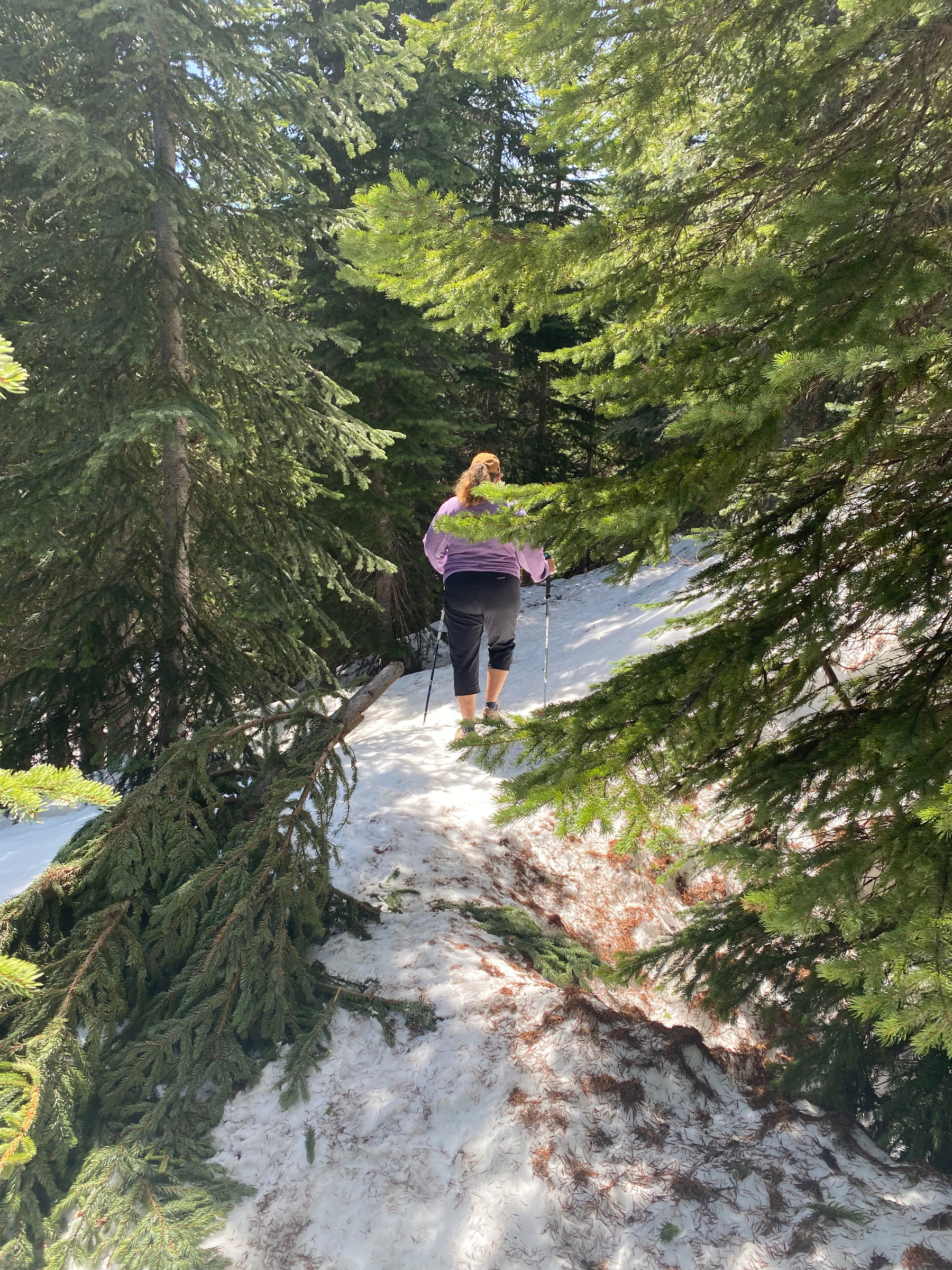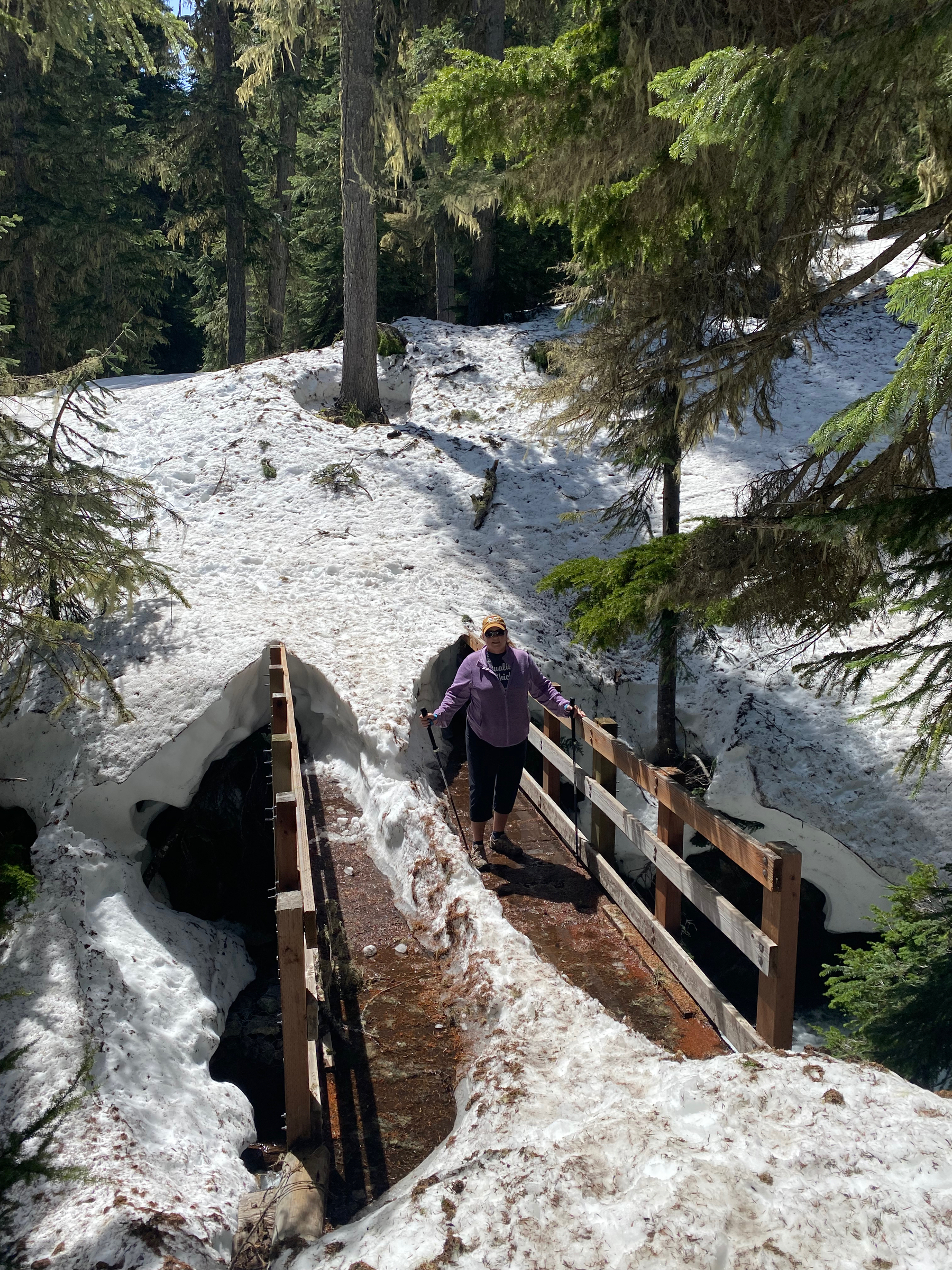 If Jane hadn't downloaded the trail on her All-Trails app we would never have found the lake! We would trek a ways forward then stop and consult the map. inevitably we were off to one side or the other of the official trail. We were completely by ourselves, and I immediately thought about the warnings that there were bears and rattlesnakes about. Well, I was not worried about rattlesnakes! I wasn't really worried about 🐻 either but the thought did cross my mind.
After all of our work to get to the lake it was definitely worth it, all the more so because there were only a few people there. A real contrast to the campground!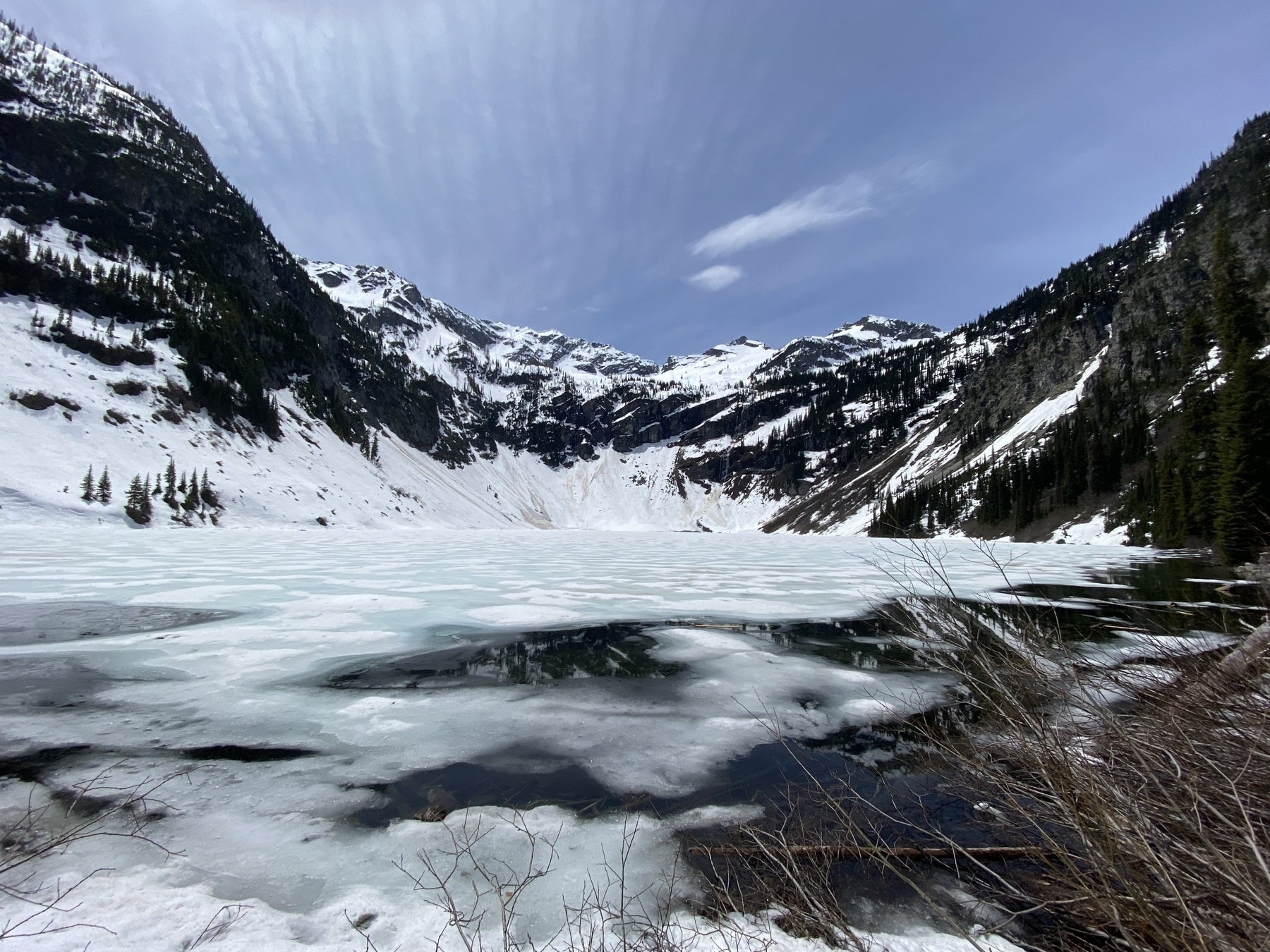 By the time we finished the hike Jane's feet were soaked! We were both way more worn out than anyone would ever imagine after a simple two mile hike on a wheelchair-accessible trail 😂 On the way back to the campground we discussed our options. Jane had made a second reservation for tonight at Pearrygin State Park, in case it was too cold in the National Park. Its not cold, but we decided that we might as well make another 60 miles of progress this afternoon as another hike was not in the cards. Who knows how busy this campground will be but we might as well find out.
It turned out great! We have a great site right next to the lake, and it was a beautiful night to grill some steaks and enjoy a campfire. This time we stopped and supported the "neighborhood kids" outside of Winthrop by purchasing several bundles of 🪵 for our upcoming 🔥.