Bond, James Bond... Island
Bond, James Bond... Island
Wrong side of the island, wrong end of the beach! That would be the headline for the way our trip started this morning. We got off the ship with a group of 13 that had banded together through Cruise Critic to head off on a swimming, snorkeling and boating trip together. However, it was a bit chaotic at the start. While we could have anchored on the side of the island by the marinas we instead anchored on the other side of the island. And while our guide knew the beach we were supposed to tender into he was informed that we would be tendering to the other end of the beach. So when we got off and started looking for the sign that read "Jane Miller Group" we were suprised to not see one. One taxi driver that had wanted to sell us a tour ended up being particularly nice when he offered to let us use his phone to contact the tour company. They were at the wrong end of the beach which was a long long walk, so they said we should walk to the "family mart" and wait.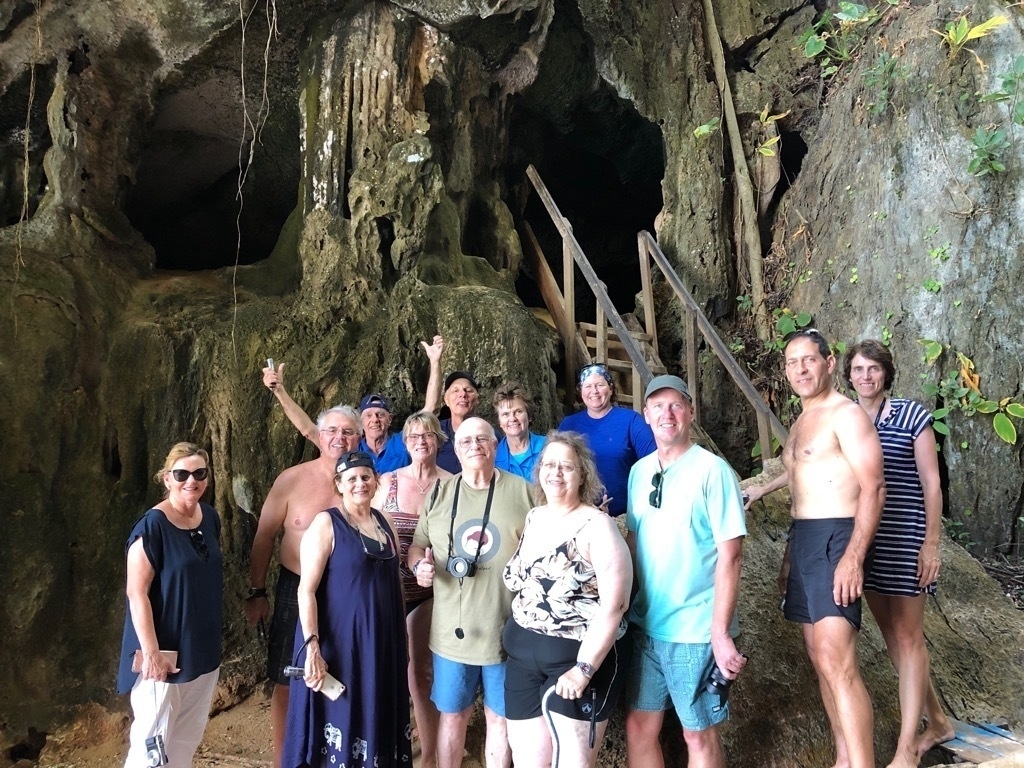 before we even got to the family mart one of our new friends said "Jane, here's your van". Sure enough there was a driver with a "Jane Miller" sign. Unfortunately he didn't have enough room for all of us in the van. So Jane said I should go with the main group and she would wait for a car and ride with our new friends Mike and Karen. Mike is an old army vet who now works as a defense contracter in South Korea teaching war gaming, and Karen is from Austin MN. Although there is a bit of an age gap, we have a lot in common and they were fun to talk to and always up for an adventure.
It was forty five minutes later when we finally arrived at the marina and I had just pulled out my phone and turned on the international plan so I could text jane and find out where she was!? Before I could press the send button however I noticed that she and Mike and Karen were all waiting for us on the sidewalk! OK, mission accomplished, we are all at the marina we can get this show underway. After a short trip to the nearby souvenier store where we paid double the usual cost for our Thai beers and we were ready to board our pink carriage to the boat halfway down the pier.
In our pre-trip briefing, both the owner and our guide for the day assured us that we were going to be back to the dock in plenty of time because they didn't want anyone to stress about making it back on time for the last tender back to the ship. Great! This sounds good. There is nothing I hate more than wondering if we are going to make it back before the ship leaves.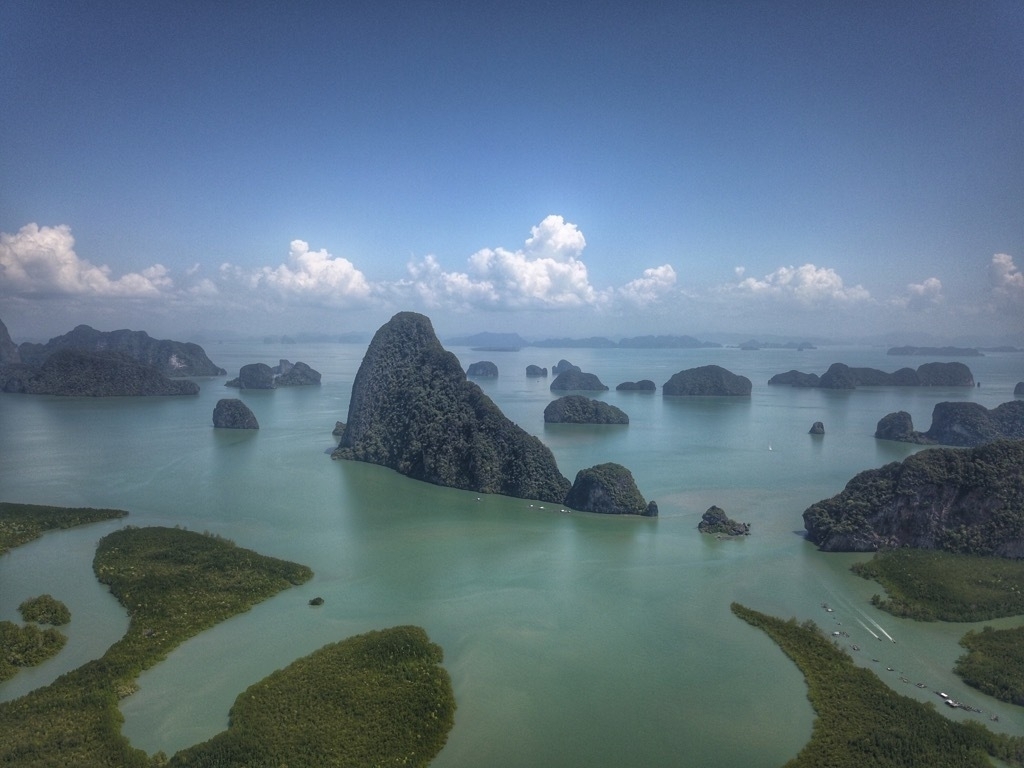 A half hour later we were at our first stop and in the 85 degree water. Very nice and warm for swimming especially after all of our rushing around this morning and then sitting close together (with life jackets on!! to appease the local authorities) for the first part of the journey. Life jackets were now stowed away for the rest of the trip!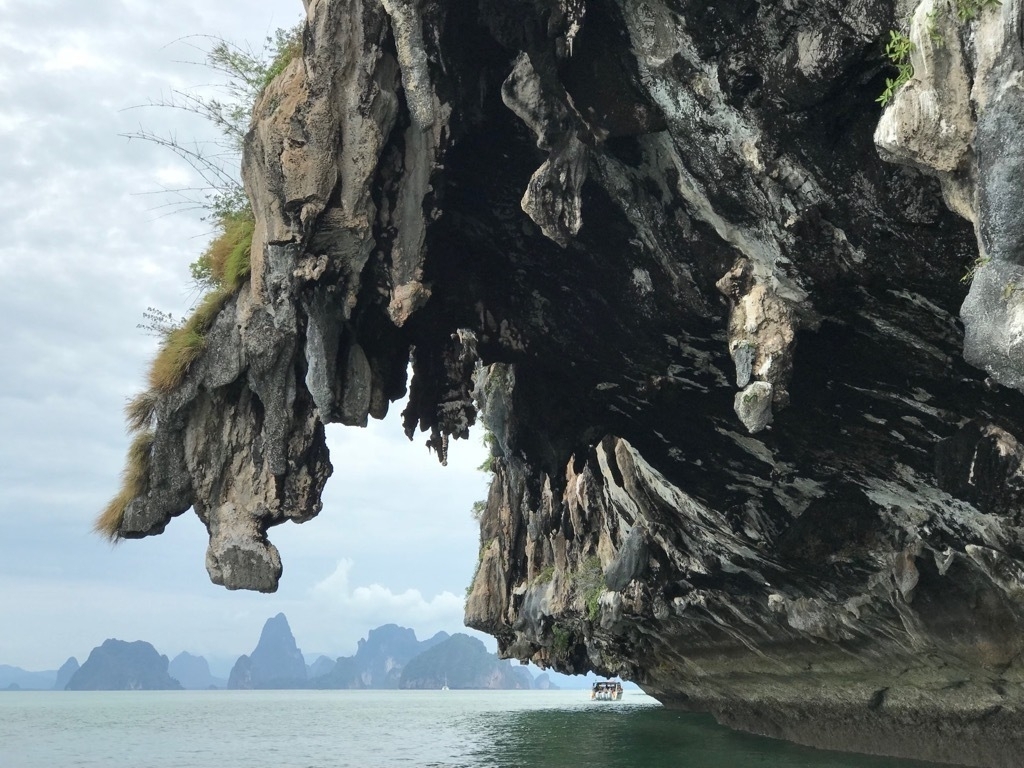 Following the swimming we motored to a group of islands called Phang-Nga bay. These islands were beautiful and reminded us of our time in Halong Bay, Vietnam. We stopped at Ice Cream cave and went spelunking! It was really pretty and brought us through the island where we could see the other side.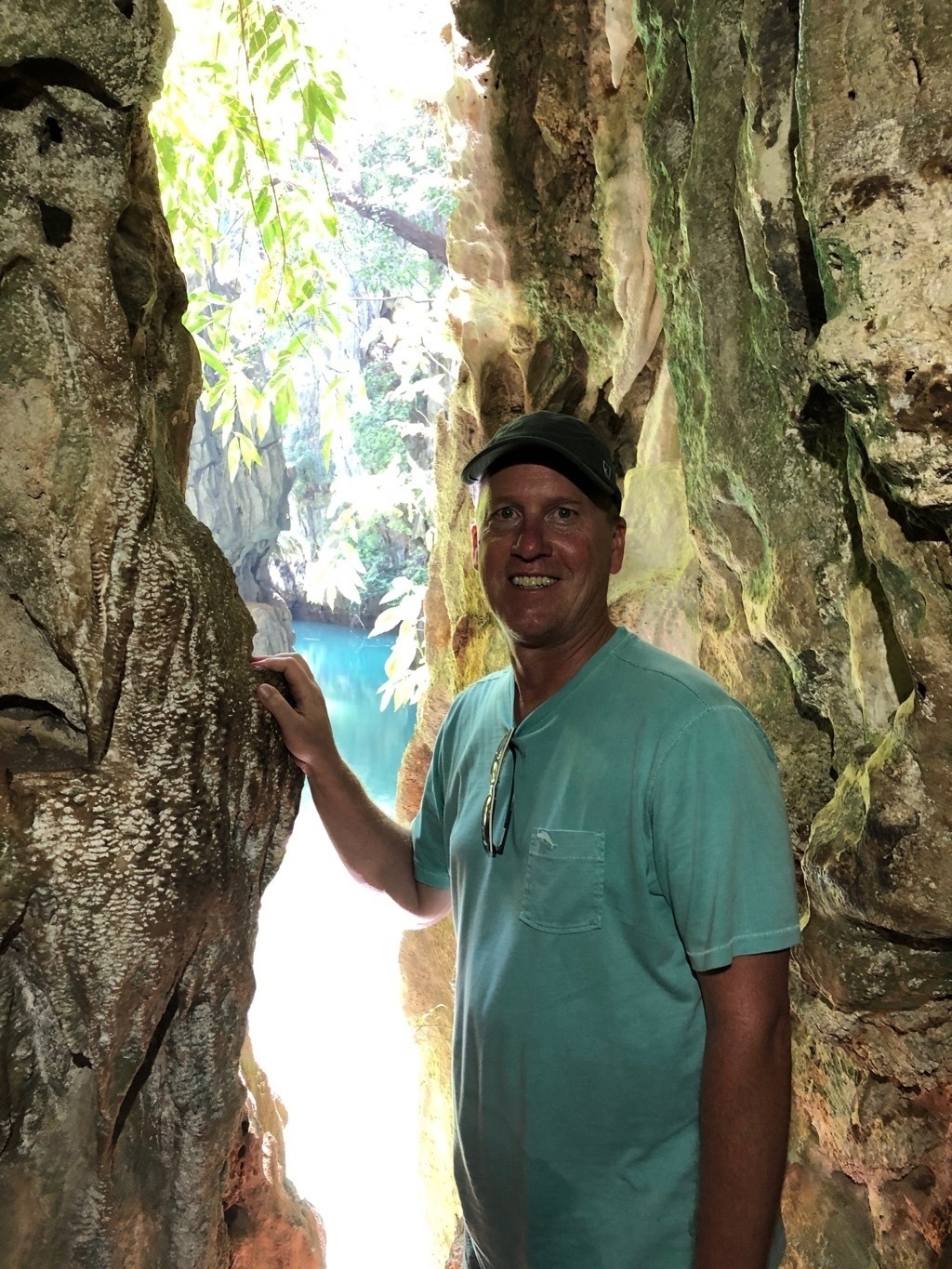 We pulled up to a small beach at a national park for lunch. We had a fabulous Thai lunch. By the time we finished lunch it was after 2pm and our guide said we would see James Bond island, the floating village and then do some kayaking before making our way back to the marina at high speed but still an hour away. A few of us began to wonder out loud about the 4:00 return time. It turned out that the tide had gone out and the water was quite shallow to get to the floating village so we had to go slow. I think it was at that point that our guide finally re-did the math in his head and announced that we should choose whether we wanted to see the village or Kayak. None of us could see that Kayaking made any sense, given that we would have had about 5 minutes time to do so. In reality we should have headed back right after James Bond island.
In the end we arrived back at the marina closer to 4:30 and we could tell they were wanting us to really hurry to get to the vans and on our way back to the ship. Given that it had taken 45 minutes to get there in the morning I was wondering how this was going to end. fortunately our afternoon driver seemed to know a much better route than our morning driver and it really only took 20 minutes to get back, so all was well.
Days like today are my one knock against cruises like this. You just don't really have enough time to do the things you'd like to do without the pressure of going right up against getting on board at the last second. This was true for us in Kuala Lumpur as well as there was a whole hour long drive from the port just to get into the city. When you do a land tour you don't have those daily deadlines, and you can take your time exploring a bit more.
On the other hand, it was "white night" on the ship tonight and we got back in plenty of time to enjoy the sunset.