Hoi An Nighttime
Hoi An Nighttime
After four days of non-stop activity, we took a short flight North to Hoi An. Hoi An, is a very much a vacation area for Vietnamese and foreigners alike. It is a World Heritage site and will provide us with some very welcome down time. Maybe more down time than we planned on since it is supposed to rain the next two days, and I don't think we will do our bike ride if it is raining.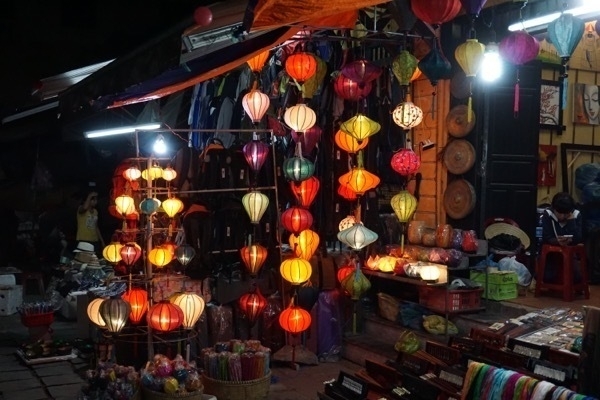 Long took us to the airport and escorted us through the checkin process and all the way to security where we bid him goodbye. It is really comforting traveling with a well trained guide in a country where you can barely say, hello and thank you. They make everything go smoothly. After a short flight to Danang, we were met by our guide Binh who will be with us for our time in Hoi An.
After checking in to the beautiful Ananantara Resort Hotel we went with Binh for some lunch and a walking tour of the old city. This is definitely a shopping destination, and I have a feeling we will be buying (and shipping home) some embroidered artwork. It is so finely done it is nearly photo realistic quality.
After resting up in our room we went out for a walk through the markets and shops at night. It is really beautiful here at night. The gallery below gives you a good idea of the colors here at night.
We totally enjoyed a long walk through the old town. After a while we stopped at a restaurant called the Seafood Garden. It didn't look particularly great as a place to eat, and without a data plan we couldn't just pop up trip advisor. Well we do have a data plan but it is ridiculously expensive (thanks Verizon), and it seemed obvious just by looking. (Update: TripAdvisor confirms our suspicions) But they had an upstairs balcony that we could sit at and have a drink and look out over the river. The drinks were cheap, and it was entertaining to watch the old gentleman who was waiting tables hustle tours from all of the other people around us for the next day.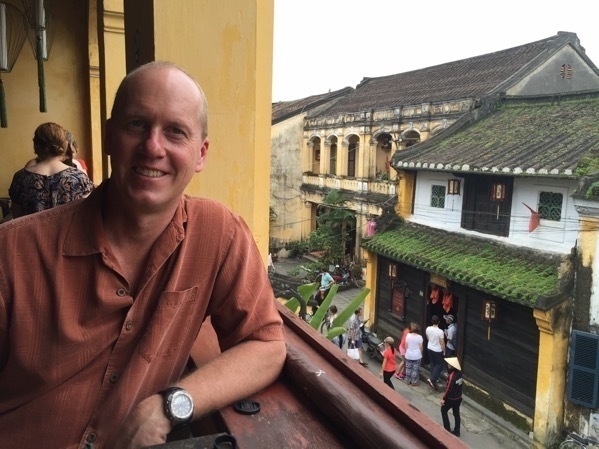 We wanted to go back to the restaurant where we had lunch, as I think we spend a few days just happily working our way through the menu, however they were booked for the night. Who knew you needed reservations in this place. We ended up eating at the Hai Cafe where we had some nice Vietnamese barbecue. This is the restaurant where we will meet for our cooking class tomorrow.