ketchikan
Its a lazy, rainy afternoon here in Ketchikan Alaska. We are back from fishing and have warmed up with some lunch and a nice soak in the hot tub. The ship should be pulling out of port any minute now and we'll be on our way to Icy Strait.

The last 24 hours have been a lot of fun. In terms of a sea day, yesterday would have to rank way up there for the unique experience it provided us. As you know from my previous blog post I can't say much about it. We were part of a very familiar kind of scene to those of you who actually watch this particular kind of show. Meaning we were a part of a large group that got to try out some wonderful food and then share our thoughts. Whether or not we'll ever be seen by millions of people is all in the hands of some editor at this point. But I know I'll look forward to this episode. It will always remind me that Holly does not know what Jamie Oliver actually looks like, since he wasn't here.

Last night we had our second phenomenal dinner in Qsine. This is the restaurant that features the iPads, we were rewArDed by seeing someone faMous at the tAble next to us. We didn't intrude on her privacy since she was having dinner with her family and celebrating her father's birthday.

This morning we were up bright and early for our fishing expedition. It was just the four of us and captain Bob. Bob was a great captain, he's a salty dog that has been guiding fishing trips here in Ketchikan since the 1970s. We had a lot of fun fishing for salmon, even though it was a bit on the cold and rainy side. The high for the day was about 57 degrees, and we had rain off and on.

Of course we had to turn even a small fishing expedition into some kind of a competition. Although as competitions go this was pretty tame since we took turns reeling in the fish. At the end of the morning we had 14 fish in the hold. All of them nice pink salmon, that we'll look forward to receiving via Fed Ex when we get back home. Here's Holly and Captain Bob netting one of our first salmon.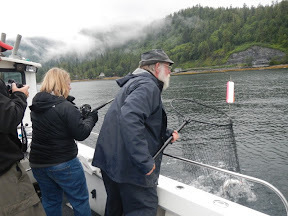 And here's Jane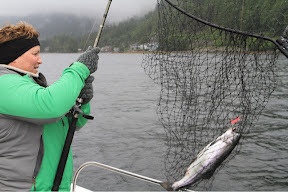 Tonight we are looking forward to eating in the main dining room, and relaxing at one of the shows on the ship. It looks like the main entertainment is a comedian and that is often fun.
Tomorrow we are looking forward to a day of whale watching, biking, and zip-lining! Stay tuned.
- Posted using BlogPress from my iPad