joshua tree national park
I think I said that the plan for today was to head to the Palm Springs tram, and do a little hiking at the top of the tram then enjoy a nice lunch in downtown Palm Springs.  But two minutes before we walked out of the house we changed our minds and decided to go to Joshua Tree National Park.  Since we both have boys named Joshua, and they are staying together while we are out here in California, it made sense for us to check out this national park.  We are glad we did.
The south entrance to Joshua Tree is only about 25 miles away from Indio, so its a short drive to get to the park.  But, once you are there you find out how huge the park is.  We drove another 23 miles through desert scrub before we got to some of the really interesting parts.  The Joshua Tree National Park is a mixture of climates, it is part Colorado Desert, and part Mojave Desert, microclimates abound.
Our first big stop was at the Cholla cactus garden, its weird how these pictures almost look like they are underwater photos of coral!
.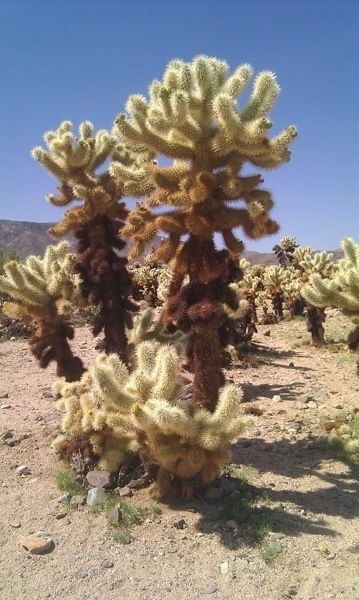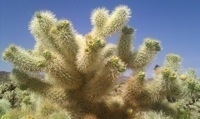 In the national park there are these small mountain ranges that pop up out of nowhere that look like someone just drove in a huge dump truck and left a pile of rubble behind.  In fact these are all granite, and formed from volcanic activity.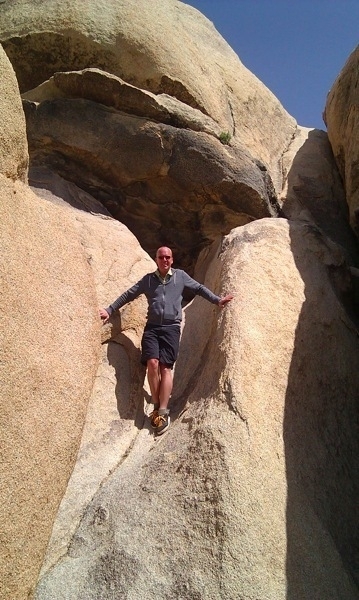 Because of all the different climates that are part of the park, the whole southern half of the park doesn't even have any Joshua Trees!  You have to wait until you get to a little higher elevation which is in the north and west part of the park.  Here's Jim and Karen standing under a very picturesque Joshua Tree.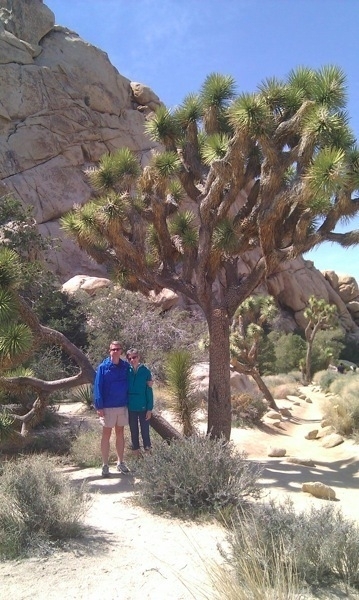 The Joshua Tree gets its name from the mormon's who saw it and thought that it reminded them of the prophet Joshua stretching his arms heavenward.  In fact the "tree" is part of the Yucca family.  It has extremely sharp  points on the end of the leaves which the loggerhead shrike (a bird) uses to kill its prey!
Our last stop in the park was a great little hike in hidden canyon.  Here you can get a sense of how these little mountains were created out of blocks of granite.  Its amazing to see the Joshua Trees along with the scrub oak, and Juniper trees just growing out of the rocks.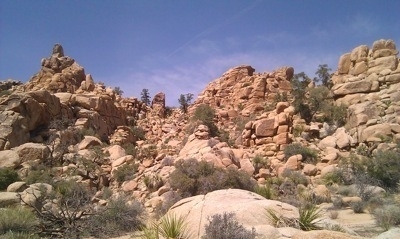 On the way home, we drove through the wind farm in the San Gorgonio pass.  This is a great site for a wind farm as the wind blows here all the time.  There are more than 4000 turbines here that generate enough power for the entire Coachella valley!  There are turbines here of all ages, some very old and very small, some with two blades, for working in higher winds, and some very new and large turbines.  Poor Jim, we discovered too late that you can get tickets for a tour of the wind farm!