day 2, or is it 3?
I can't believe that I actually slept until 8:00AM.  After waking up at 3 AM I was afraid I was done for, but I dropped back to sleep and slept hard until 8.  After a quick breakfast at the Hostel it was time for some Munich touring on our own.   A few of us were going to go to the Deutches Museum, but most of the group was headed to Dachau.  I really enjoyed the museum, I went straight to the Math, Computer Science, and Astronomy exhibit, where I discovered that they had an actual Enigma machine, in the cryptography area.
There were many other great exhibits, the aeronautical area had a cross section of an Airbus A320 and several other interesting aircraft, there was a really amazing mining exhibit as well.  The nautical area was equally amazing with replicas of ships both large and small.  You could easily spend a whole day at the museum, but my mind was pretty overloaded by 11:30.  The plan was to head back to the Viktalien Markt for a street lunch of sausage and bread, unfortunately everything was closed, it turns out that Epiphany is a national holiday in Germany, so we really had to work to find a street vendor that was open.  I had to try the Currywurst, which was a sausage in a sweet sauce with curry powder sprinkled over the top.  It was a delicious German meets Indian fusion street food kind of thing.
With lunch behind us we met up with the rest of the group to head back to the airport to meet with Sebastian, a marketing guy, from Lufthansa.  He gave us a great presentation on Lufthansa and their support of the Munich 2018 bid.  The Lufthansa folks had very generously provided us all with Munich 2018 stocking hats and scarves.  After the meeting we took a group photo with everyone wearing their new gifts.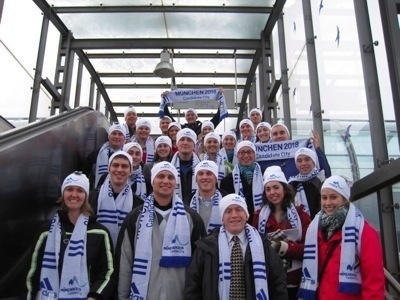 After the Lufthansa meeting we returned to the Hostel for some group discussion and to get ready for our dinner at the Hofbrauhaus!  We were not in the main hall, but were upstairs in their groupdining area.  I had a fantastic dinner of veal ragout with Spaetzel, and a good size dark beer.
Dinner was pretty calm until a huge group of Canadiens came it.  It was a group of ninth grade hockey players and their parents.  Things really started to heat up when the parents started singing Canadian drinking songs and chugging their beers.  This brought on a resounding L-U, L-U, L-U-T-H, T-H, T-H, T-H-E-R from the Luther crowd and soon we were all friends.
Back at my room, sleep was hard to come by in this second night.  I mostly drifted in and out of sleep until my alarm went off at 6AM, we needed to be out of the hostel and headed for the train station by 6:45.  As I write this I am on the train to Mannheim and then Interlaken.